Getting to Know Mr. Hong
Mr. Hong is a new teacher at SHC. He teaches U.S. History and Civics. Also, he is a moderator of the SHCP Speech and Debate Club. In this interview, he explains his journey as a teacher and his hobbies! 
Kaylyn Lee: What inspired you to become a history teacher?
Mr. Hong: I feel like I have thoughts on the history part and the teacher part. For the history part, when I started college, I wanted to be a doctor. My dad is a doctor, and my mom is a nurse. So I was going to do medical school and all of that. I was a biology major, but I had a hard time with the science and biology classes in college and didn't get good grades in them. I thought I should study something else instead, so I ended up studying government and politics because I had done speech and debate in high school. I had lots of experience with political and economical questions.
My first job when I graduated from college was working at Bellarmine College Preparatory, where I went to high school. That's how I got interested in the history side. On the teacher side, I ended up working at Bellarmine, but I didn't know that I wanted to be a history teacher; I just thought it would be cool to work there, given I went to school there. I really liked it and I think that spending those two years working in Bellarmine was really great. I really like the students and teaching. I think that decided what I wanted to do as a career. 
K: What college did you go to?
H: I went to Northwestern University, which is in Chicago.  
K: For speech and debate, were you [on] a team [in] high school?
H: They had a speech and debate class during my freshman year, and I took the class. I thought, "Well, this is fun!" Lots of my friends joined the program. I stuck through it.
K: Is it really similar to the one at SHC or is it very different?
H: The events that they do are the same. The team at Bellarmine is much bigger, and now I am coaching the one here. I am trying to get it to the size at Bellarmine. 
K: What brought you to SHC?
H: Honestly, the experience of going to Bellarmine and then teaching at Bellarmine. It's a Catholic Jesuit school down in San Jose. We used to play SHC [in] football games. At the time, I was thinking, I'm going to be living in San Francisco, and I know this is a good Catholic school. SHC is similar to the one I went to. I applied and they were generous enough to offer a position. 
K: How do you like teaching at SHC in general?
H: I really like it! I feel like I have talked about Bellarmine in all my answers. SHC is so similar to Bellarmine, which I really liked going to and teaching at. I feel like all of the teachers are very kind and helpful and [have shown me] the ropes. All the students have been really awesome. Of course, it's challenging, but it's been really rewarding.
K: How would you compare Bellarmine's teaching style to SHC? Is it very similar or more different?
H: [Teachers] here in the social studies department [are] more down to do different things. I feel like Bellarmine was a lot of lecture-based teaching. Something that I like about SHC is that I know a lot of the teachers try a lot of different styles of teaching and instruction. That's kind of a generalization.
K: Is there a historical event you're most interested in learning or teaching about?
H: I think one thing I want to talk about in US History in the second semester is immigration, particularly Asian immigration. Some members of my family have really interesting immigration stories, so that's something I'm really interested in. For example, the Chinese and also Korean immigrants, who came to San Francisco during the gold rush. In fact, they worked in a lot of different areas like railroads and mining. It's a very interesting period– I think it [will] be a lot of fun talking about it. 
K: What do you like doing in your leisure time?
H: I like to run. Ms. Hand is also new and Father John is also. All three of us plan to do a run together later in the year, in January. I [am] a big fan of cooking. Chess also. I like a lot of board games and card games. Although, I wish I could play an instrument because I really like music. 
K: What is the best dish, in your opinion, that you made before?
H: I really like making dumplings. I've never done the dough from scratch because that's so much work. I normally buy the ones that you can get at the grocery store, and they're already made, and then make them. 
K: Do you mainly make Asian foods or a broad spectrum of foods?
H: No, I feel like more of a spectrum. I'll go back and forth. I'll make a lot of pasta and then rice dishes like Korean food. 
K: What card games do you like in particular?
H: Poker is one of my favorite games. There is another game not as well known [called] Euchre. It's really interesting as a history teacher because it's based on this French and German game. It's from Europe. I learned about Euchre when I went to school in Chicago because it's really popular in the Midwest. The reason that I learned this is because there were a lot of French and German immigrants moving to the midwest in the 19th century. That is where historians have theorized the game came from. I never heard of Euchre in California and the people that I have met here. It's only people from Chicago, Michigan, and Wisconsin. I think that's a big part of the reason why.
K: Yeah, I haven't heard of it. Is it more regular cards or is it a board game set like those characters? 
H: It's 52 cards. It's similar to Bridge. 
Mr. Hong is excited to engage with the SHC community and expand the school's speech and debate team. Let's all make sure to welcome him to campus this year! 
Leave a Comment
About the Contributor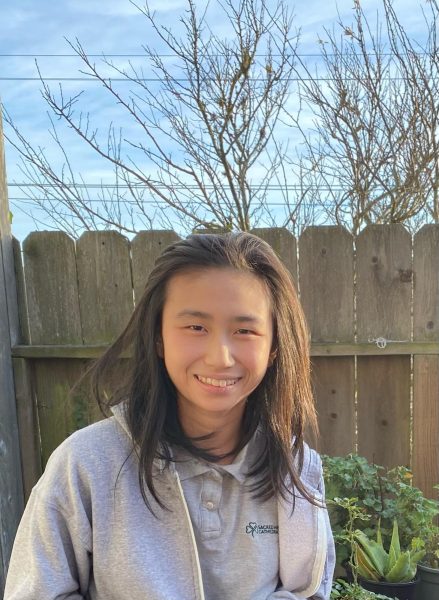 Kaylyn Lee '24, Head of Broadcast Media



Kaylyn is a senior and is serving as the Head of Broadcast Media for the Emerald. She enjoys listening to music, art, and gardening.