Tom Brady, A Force to be Reckoned With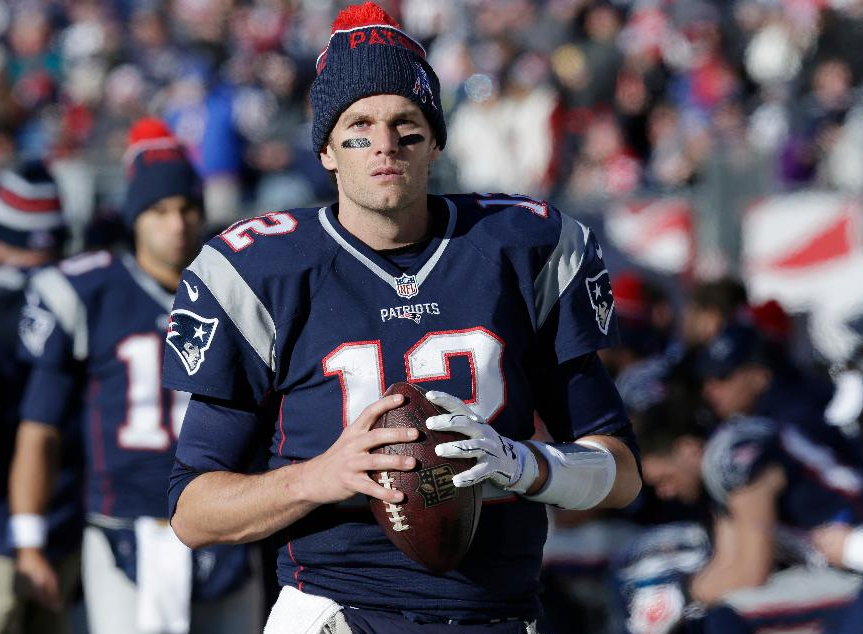 Tom Brady, a Bay Area native, has done it all. Brady grew up in San Mateo, California and attended Serra High School, where he idolized Joe Montana through his glory years and was determined to accomplish the same. He attended the University of Michigan and was ranked a top quarterback prospect. However, his first two years were filled with disappointment as he served as a backup. Brady dealt with such severe anxiety and depression that he had to meet with an assistant athletic director. At one point, he even considered transferring to the University of California, Berkeley. Although, with the help of his assistant athletic director, he managed to become the starting quarterback his junior year. During the rest of his college career, he performed very well, earning himself the nickname, "Comeback Kid," for his numerous comebacks.
Brady was drafted 199th overall in the sixth round of the 2000 NFL draft by the New England Patriots, becoming a fourth string quarterback for the team. In his second season, he became the starting quarterback when Drew Bledsoe was injured with internal bleeding during a game against the New York Jets. Brady struggled initially as a starter, posing a 79.6 and 58.7 passer rating during his first two games, respectively. However, Brady won a total of eleven of the fourteen games he started as he led the Patriots to the playoffs. Brady won the Super Bowl that year against the Rams, leading his team to a game-winning field-goal with 7 seconds left on the clock.
Throughout the rest of his career, Brady would go on to win 4 more Super Bowls and was named MVP 4 out of his 5 Super Bowl wins. In total, Brady has been to the Super Bowl 7 times, losing to the New York Giants – led by quarterback Eli Manning- in 2007 and 2011. All of Brady's Super Bowl appearances have been decided by 6 points or less, including 3 game-winning drives. Brady has been one of the most consistent post-season quarterbacks in history and holds multiple records. These records include most touchdown passes (63), most games won by a starting quarterback (25), most passing yards (9,094), and most consecutive wins by a starting quarterback (10).
During the regular season, Brady has gone 183-52, recording two NFL MVP's, 2 Offensive Player of the Year awards, 12 Pro-bowls, an NFL Comeback of the Year award, 2-time NFL passing yards leader, and 4-time NFL touchdowns leader. Brady, with the help of coach Bill Belichick, has been one of the most successful quarterbacks in NFL history, sustaining a winning record every year he's played. Brady has an overall quarterback rating of 97.2, a completion percentage of 63.8, a touchdown to interception ratio of 456-152, a total of 61,582 yards, and a total of 456 touchdowns.
At 39 years old, Brady manages to play as well as ever, winning Super Bowl LI. During this game, Brady found himself down 25 points at halftime against the Atlanta Falcons. With all the odds against him, Brady completed a comeback by bringing the game to overtime and ultimately winning it 34-28. He never showed any signs of fatigue or nervousness, though any quarterback would be expected to in such a situation, and that's what makes Brady who he is. He has always embraced the challenges the NFL brought, and conquered many of them as a result. Brady showed the level of poise and determination that he has always shown; the one of a champion.
While Brady idolized Montana as the greatest quarterback of all time, he has made his own case for that feat. Montana, who was known as "Cool Joe" for his calmness during tight situations that allowed him to lead comebacks, won 4 Super Bowls. Brady now has 5 Super Bowls and has clearly learned the same comeback mentality as Montana, and displays the consistent level of greatness Montana did. However, now Brady has more Super Bowl victories, along with a better completion percentage (63.8 vs 63.2), more passing yards (61,582 vs 40,551), and a better touchdown to interception ratio (456-152 vs 273-139). While it is difficult to compare players who are in different eras, Brady has established himself as the greatest in this era, if not history.