The Breathtaking Bruins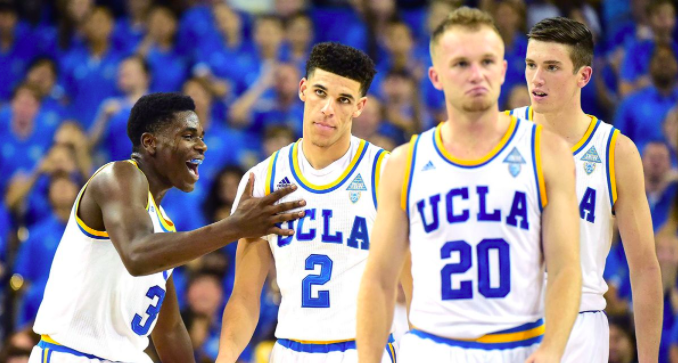 On November 11th, the 2016-17 college basketball season tipped off with many teams beginning to emerge as the powerhouses of college basketball. After 4 weeks of fierce competition, the top 5 teams were Kentucky, Villanova, North Carolina, Kansas, and Duke, respectively, all of which are teams often found at the top of the AP top 25. There were also some newcomers among the top 25, such as Creighton, Saint Mary's, and South Carolina.
Sitting at 11th place in the nation, the Bruins caught the eye of many, but had yet to face any real challenges. One player in particular, Lonzo Ball, surfaced as the heart of the Bruins, averaging 14.5 points per game, as well as an astounding 9.3 assists per game. Lonzo Ball is not the only good player on the Bruins, however, as they boast some impressive stats as a team: an undefeated record, an average of approximately 96 points per game, and a measly average of 66 points let up per game. Despite all the phenomenal qualities of the Bruins, they were still being overlooked by many fans and experts because of their easy schedule.
However, on the morning of December 3rd, everything changed when the Bruins faced off against the #1 ranked Kentucky Wildcats. This was the first real challenge the Bruins saw, but they were unphased by it. As expected, the Wildcats started off strong, taking an early lead. At one point the Bruins trailed by 9 points, yet that score didn't last long. The Bruins quickly began to score and, by the end of the first half, led by a score of 49-45. The Bruins dominated the beginning of the second half, going on an 11-2 run against the Wildcats. Despite the efforts of the Wildcats, they held onto the lead for the rest of the second half, and the game ended with a final score of 97-92. Just like that, the undefeated Wildcats had been conquered, and the Bruins improved their record to 9-0. This win would have been very impressive had all the Bruins had an excellent game; however, Lonzo Ball did not put up a great game, making this win unbelieveable.
With this win, the Bruins proved to the college basketball community that they are a force to be reckoned with. It is undeniable that the future looks pretty bright for the Bruins, as they are beginning to emerge as one of the top teams in college basketball, and are now ranked #2 overall in the country after their win over Kentucky. They will carry this momentum into their next game against the Michigan Wolverines. After that, they will take on 3 more teams before beginning their division schedule, where they will face off against the always-challenging Pac-12.
To see the Bruins full schedule and results click here.