How 'Bout Them Giants?
On September 13, 2021, the San Francisco Giants took the victory against the San Diego Padres (9-1), earning themselves a guaranteed spot in the playoffs. This year, the San Francisco Giants have had a remarkable season, being the first team to achieve 100 wins and clinch a spot in the playoffs. 
After the Giants won the 2014 World Series, the team quickly fell into pieces and had very little success since. Since then, the only year the Giants had made the playoffs was in 2016 when the team placed second in their division, but unfortunately came short in the division finals, ending their even-year streak of World Series wins. After the extended drought of not making it to the postseason, the Giants finally secured their spot as the first confirmed team in the 2021 playoffs. 
Since the Giants clinched their spot, the team has finished first place in the National League West Division. As the regular season came to an end on October 3rd, the Giants and Dodgers were neck and neck. The Giants, with 107 wins and 55 losses (the most wins in SF Giants' history), barely held first place over the 106W-56L Dodgers. It's a rare occasion to see the California teams playing this well; both were the only two teams in the NL West to get 100 wins. 
After a few years of unlucky seasons and poor management decisions, what are the Giants doing so differently this year? Besides the all-star players and their efforts, the first person to give credit has to be Farhan Zaidi, the President of Operations for the Giants. Joining management in November of 2018, inheriting a team with 73 wins and 89 losses, Zaidi committed to making the necessary changes that would help this team get back on track. Since 2019, Zaidi has signed Kevin Gausman, Alex Wood, Tommy La Stella, and Wilmer Flores and executed trades to acquire Kris Bryant, Mike Yastremski, and Lamonte Wade Jr. These changes have contributed to making it to this year's postseason and holding the top spot in NL West. Gabe Kapler also played a crucial role in the success of the Giants this year. Since coming in as team manager in November 2019, Kapler has stayed consistent with his management abilities. Many people questioned Kapler's hiring, but with a 132W-85L record since joining, he has proven he is more than the right choice. These two men have turned the Giants into a powerhouse of an organization that nobody, not even Giants fans, saw coming.
 Of course, the players on the field must also be credited for the historic success of the team. Brandon Belt, now injured (thumb), had 29 home runs in the 2021 MLB season, while only playing in 60% of the season due to injuries. Big hitters like Mike Yastremski and Brandon Crawford also stepped up to support this record-breaking season. Crawford has proven that he is much more than a stud defender with his .298 batting average and 24 home runs. Buster Posey proved that he could do more at home plate than just catch with his .304 batting average and 18 home runs. A notably clutch, late-night specialist, Lamonte Wade Jr., won the Willie Mac Award for his continued efforts throughout the season. He also earned the nickname "Late Night Lamonte" for his late-game heroics: he had six tie or go-ahead hits in the 9th inning, the most in a season by any MLB player in 40 years. 
San Francisco Giants' pitching has also been vital to the success of the team. In 2020, the Giants signed Kevin Gausman to a one-year, $9 million contract. After a solid 2020 season, he was re-signed to a one-year, $18 million contract. Gausman has had a great past two seasons. Starting 33 games with a 14-6 record and a great 2.81 ERA. It all comes down to the Giants clutching up the postseason by keeping their regular season mentality tough. If not, more players on the team will get injured and playoffs depend on the injury status of the team. With a stable mentality and continued efforts, the Giants should be able to stand their ground this upcoming postseason. 
Let's hope the San Francisco Giants can inspire the Sacred Heart Cathedral Baseball team in their season. Unable to participate in the 2020 Bruce Mahoney match due to COVID-19 restrictions, the Varsity Baseball team is looking to have a great season after the long wait. With heavy-hitters such as Lucas Kelly, Brendan Donnelly, and Colin Spear guiding us, the team aims to follow their local Giants and help clinch the Bruce Mahoney trophy. 
What do the students think: We asked SHC Students who their favorite player is and how they feel about the Giants winning the National Division West. (Spoiler: Buster Posey is a big hit at SHC) 
"My favorite player is Buster Posey, and he always has been. I think it's great that the Giants are back in the playoffs, and hopefully, they can bring another ring home to the bay!" – Ian Bird '24
"Kris Bryant is my favorite player because he is a great hitter and a great addition to the team." Claire Curry '22
"Buster Posey is my favorite Giants player because he inspires me to be a better athlete. The Giants winning the NL West makes me prouder to live in SF during these years." – Jonah Bennan '23
"Brandon Crawford has always been my favorite player, and I believe he has a chance at winning MVP. I can't wait for post-season baseball in October because the city always comes together to cheer on the electric team." – Aidan Shea '22
"Buster Posey is my favorite player because I grew up watching him as a kid." – Charley Taisch '23
"My favorite player has to be Buster Posey. He's been my favorite ever since he won rookie of the year in 2010. I think it's so awesome that we won the division after such a great season. I can't wait to see how we will do in the postseason!" – Jay Murphy '23
"My favorite player is probably Buster Posey. I've watched him mature into a more developed player over the years, and I can't wait to watch what he brings into the postseason alongside all the other great players." – Cian O'Donoghue '23
"I love Yastrzemski so much because he has contributed a lot to this reformed Giants team. Keep an eye out for Brandon Belt in this upcoming postseason after he recovers because he is going to hit some bombs. I'm overall super hyped for October." Brian Coyle '23
"Buster Posey is my favorite Giants player because he is an inspiration to many as a father, baseball player, and all-around person. He pushes himself and is constantly improving. As an SF native, I am very proud of the Giants for winning the West Division." – Celine Maguire '23
"My favorite player is Kris Bryant because he added a lot to the team this year. I'm excited to watch him in the postseason." – Kate O'Flynn '23
Leave a Comment
About the Contributors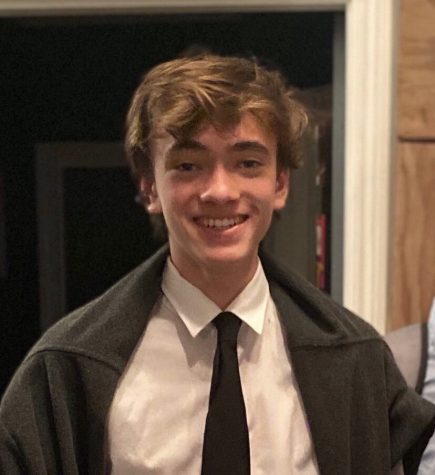 Theo Mai '23, Writer
Theo is a sophomore and first year writer for The Emerald. In addition to bringing his skills to our team, he played freshman football and is a member...