Black History Month @ SHC
Each February, SHC celebrates Black History Month, honoring the fortitude that African-Americans have demonstrated in face of countless hardships and cruelties, notably America's original sin — slavery. Black History Month is a time to reflect on the countless men and women who have so courageously fought for their rights in favor of a more perfect union, but also to celebrate the strength and accomplishments of Black men and women all fields. This has led the SHC BSU to choose Black Excellence as this year's theme. In normal years, SHC holds an assembly celebrating Dr. Martin Luther King, Jr's birthday and Black History Month. Reverend Charles Love, who fought alongside Dr. King, typically gives a moving speech and the dance team showcases choreography from songs written by Black artists.
This year, our celebration has been a little different. First, the COVID-19 pandemic has ravaged America, forcing schools to move online. Although some students are back on campus, large gatherings are not permitted. Thus, all events must be executed in a virtual manner. Second, our country is undergoing a nationwide reckoning on racism after the May Killing of George Floyd as a result of police brutality in Minneapolis, Minnesota. Over the summer, many SHC students utilized their First Amendment right to peacefully protest in support of antiracist initiatives and the Black Lives Matter movement. This reckoning has encouraged SHC's Black Student Union to plan events throughout the month — not just on one day as before. 
"
It was great to see the similarities in how we — as Black women — understand society."
— Xiomara Larkin '21
So far, the SHC BSU has shared tidbits of African-American history with the larger community via SHC Live (SHC's weekly announcement broadcast). On February 2nd, Xiomara Larkin '21 remarked on influential Black entertainers, from Chadwick Boseman to Denzel Washington. She joined the show again on February 9th, when she interviewed an SHC alumna regarding her lived experiences as a Black woman. Larkin remarked that "it was great to see the similarities in how we — as Black women — understand society. In fact, we had very similar experiences at SHC. She gave me hope that our generation will continue to fight for the social change that is much needed to move our country forward." Larkin will speak again on SHC Live on February 16th, in an interview with alumnus Carl Reed. (You can find full alumni interview videos by the BSU on the Emerald's SHC BSU YouTube playlist.)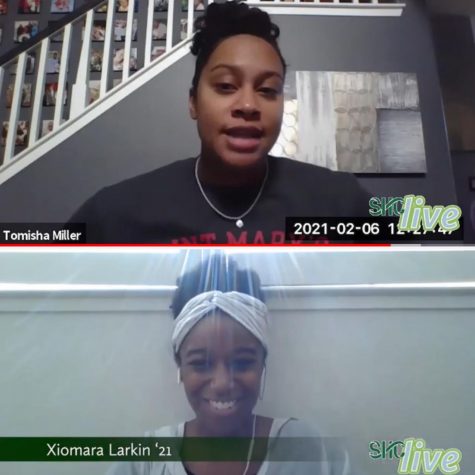 Moreover, the Black Student Union has created various Kahoot! games that many students have participated in. So far, roughly 34 students have been quizzed on their knowledge of Black inventors and hip-hop music. In preparation, the Black Student Union created presentations that allowed participants to prepare for the intense rounds of trivia. The SHC administration generously provided gift cards to the top three finalists in each game (known as the "podium"). Importantly, these events did not only serve as an opportunity for students to earn prizes, but also to learn about Black history — a topic that has often been neglected by the education system in America.
Going forward, you can expect a local scavenger hunt related to Black history, a #BuyBlack drive designed to support Black-owned businesses, and more. Be sure to follow @shc_bsu on Instagram as they continue to uplift Black voices in our community throughout February and beyond!
Leave a Comment