In-Person School During a Pandemic
After eight months of distance learning, many students have become accustomed to attending school via Zoom. Amidst a surge in COVID-19 cases during the holidays, hope of a return to on-campus learning was low. However, since the start of the school year, SHC faculty members have been working hard to prepare SHC for reopening, utilizing the San Francisco Public Health Department's guidelines. By January, SHC was ready to reopen under a hybrid model; students in each grade are separated into two cohorts (Green and Blue) that each attend school two days a week to help mitigate the spread, as well as a Gold cohort consisting of fully distanced students.
To many students, it seemed as if we would never go back to school. Eva Salgado '24 said, "I wasn't expecting to return to school this year, but was glad when we were given the opportunity to do so." Weeks before the re-opening, Dr. Cannon hosted Zoom meetings for parents, guardians, and students, informing the community how school would look and what precautions would be taken. Teachers adjusted their learning plans to better serve the hybrid model. As a freshman, transitioning from online learning to attending school amidst a pandemic definitely sounded overwhelming. But, it was all worth the worry when I finally got to campus.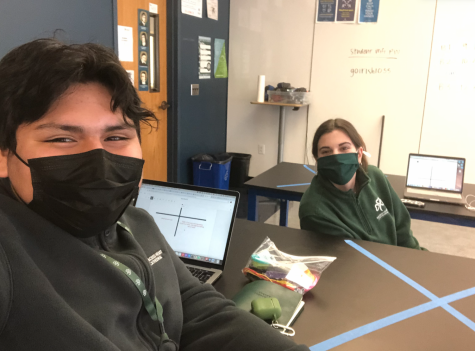 On my first day of school, students lined up in a socially distanced manner outside the La Salle campus, waiting for their temperatures to be taken. The first day of high school is always daunting, but this was different. I had already interacted with most of my classmates and teachers via Zoom, but now I had to navigate myself through this new campus while closely adhering to  COVID-19 restrictions. After having my temperature taken, I was given a wristband to wear, indicating that I had been checked in. Once I entered the building, I saw hundreds of students on the LaSalle plaza, all conversing and interacting six feet away from each other. Gathering in the plaza was a necessary safety precaution, allowing students to safely mingle in an open-air environment. Faculty frequently reminded students to stay six feet apart, and at 8:50 AM, we went to class. Every classroom had its windows open for air circulation and classrooms without windows had air purifiers. Most classrooms were quite cold so it was critical to bring extra layers for the day.
It was amazing to finally see all of my teachers in person. For most classes I still had to log onto Zoom, but my teachers were able to effectively communicate with those at home while also working with the in-person students. At the end of each class, we took five minutes to wipe down our desks and sanitize. It was reassuring to know that we were doing all we could to prevent cross-contamination. To go to the bathroom, students logged their names in order to help with contact tracing in the case of a positive COVID-19 test.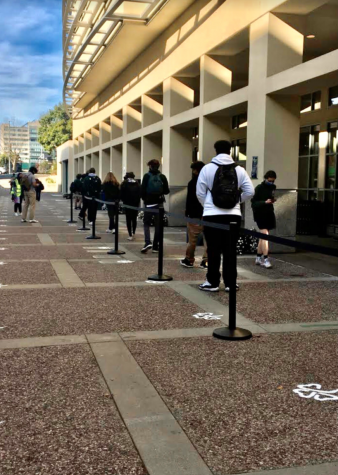 For lunch, freshmen ate in the Plaza and sophomores ate at the Practice Field. It was extremely cold outside (again, layers are critical!). Some students found it to be difficult to converse with friends while maintaining social distancing. The plaza had tents with chairs socially distanced, making it easier to interact with classmates as well as eat. However, the area filled up quickly. The line for school lunch always appeared lengthy since everyone had to remain six feet apart, but it moved swiftly. After school, students were asked to leave campus immediately.
Going to school with a mask and staying six feet apart from everyone was not what many students envisioned when we thought of returning to school. Regardless, it was necessary to continue with our education amidst a pandemic. Bridget Panina '24 reflected on her experience attending school while abiding by the COVID-19 restrictions, saying, "It wasn't too difficult to abide by the social distancing restrictions, but it gets hard when you want to run up to your friends and talk to them." Evidently, high school is as much of a social experience as an academic one.
With so much effort having been put into reopening, students felt safe on campus. Felipe Perez '24 said, "It's been great to finally see and meet all my classmates in person, rather than on a screen. Although in a sense, the world is shutting down and having more lockdowns, SHC has managed to bring our community back together." Opening a school amidst a pandemic is new to everyone and certainly not easy. SHC has worked hard and committed to opening our school safely and smoothly. Let's keep our fingers crossed for minimal COVID-19 cases going forward!
Leave a Comment
About the Contributor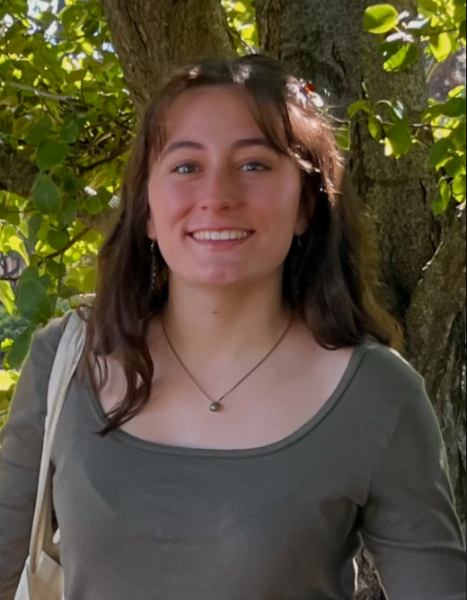 Isabella Rinaldi '24, Managing Editor



After three years of writing and editing for the Emerald, Isabella (Isa) serves as the Managing Editor in her final year. She loves to read, write,...