Kaepernick's Anthem
Most people in the US would find it very customary to stand for the National Anthem. On August 26th however, SF 49ers quarterback Colin Kaepernick decided to challenge this notion and kneel for the anthem in an attempt to peacefully protest against police brutality against African Americans and other minorities. Kaepernick stated to NFL Network media, "To me, this is bigger than football and it would be selfish on my part to look the other way. There are bodies in the street and people getting paid leave and getting away with murder." Understandably, this stirred many controversial media on both sides of the argument between both innocent people and celebrities. His actions were commonly conceived to have been too extreme, but Kaepernick still insisted that it was the best way to get his point across.
On August 10 and 12, Kaepernick wore socks depicting police officer heads with pig faces. According to Fox News, Kaepernick also asserted that he protested silently during the first two preseason games; however, he wasn't in uniform, but will continue to silently protest as the NFL regular season started on September 8th.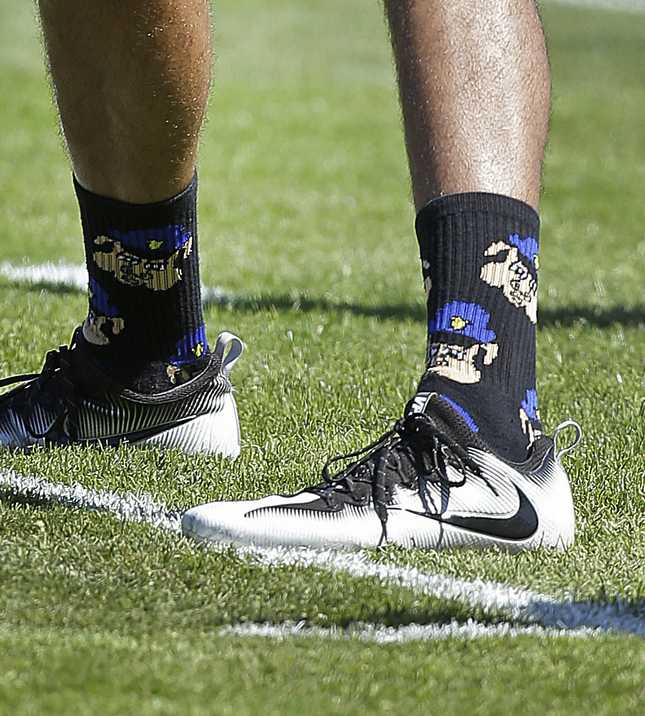 Some of Kaepernick's opposition, including many 49ers fans, have started burning Kaepernick jerseys on August 27 according to the Washington Post. Shane White, a life-long 49ers fan, stated "He's oppressed making 126 million. Well, Colin, here's my salute to you." White later posted a video showing him burning Kaepernick's jersey following his statement. In addition, a fan known as Nate3914 set Kaepernick's jersey on fire, asserting "if you don't love our country, get the [expletive] out of it. You should never play another down in the NFL. Move to Canada."(Washington Post, 8/28/2016)
Despite the apparent controversy, Kaepernick does have President Obama, as well as many war veterans on his side. On September 5th, Obama stated that Kaepernick was "exercising his constitutional right" by protesting the national anthem. The President went on to say "I think he cares about some real, legitimate issues that have to be talked about. And if nothing else, what he's done is he's generated more conversation around some topics that need to be talked about" ( New York Times, 9/5/2016). Furthermore, many military veterans have started to use the hashtag #VeteransForKaepernick to show their support despite the recent controversy. According to CNN (8/31/2016), TreyFade, an instagram account of a US veteran, wrote "It's a common misconception that every military member is furious at what his protest when there are those that are proud #veteransforKaepernick." Another man describing himself as an Air Force Veteran wrote "I'm with @Kaepernick7 (Kaepernick's Twitter account). I'm a vet. I care about people's rights to take a stand. It makes us better and smarter." Evidently, although many might see Kaepernick as a threat to the US' national integrity, there are those that interpret Kaepernick's actions differently.
Leave a Comment