The Wonders of H Mart: The First Korean Supermarket in SF
Korean culture has become increasingly popular around the world over the past decade, especially through the media: whether it's KPOP, ranging from BTS to BLACKPINK, or Korean dramas like Parasite and Squid Game. However, Korean cuisine has also been making its way into the spotlight. From making monthly appearances in the popular cooking magazine Bon Appétit to being popularized on video-sharing platforms like YouTube, Korean food has become widely recognized and appreciated, especially in the United States. 
Korean supermarkets have become a staple in almost every metropolitan area of the United States with a strong Korean presence, except, until recently, San Francisco. However, with the rising demand, the city's first Korean supermarket, H Mart, has opened. H Mart is a Korean-American grocery chain established in Queens, New York in 1982 that has since spread across the States. The "H" in H Mart stands for Han Ah Reum in Korean, which translates to "armful", signifying an armful of groceries. When the store first opened in SF in April 2021, the parking lot was packed. The line to even enter the store was ridiculously lengthy, typically lasting 25-30 minutes. On weekends, this line is mimicked inside the store to checkout. 
San Francisco has a considerable Asian population, with the Chinese-American community being the largest minority ethnic group in the city, making up 21.4% of the population. In contrast, the Korean-American community makes up only 1.2% of the population. To extend its appeal, H Mart sells a variety of vegetables and other goods from several different East Asian countries in addition to traditional Korean groceries. For example, there is a Chinese produce section and an entire row of refrigerators designated for Japanese udon noodles. Additionally, there is a section dedicated to convenience, where shoppers can find products sold at any grocery store, such as flour, pasta, and canned goods. This section serves as a way for people who perhaps don't speak English to easily shop for all of their groceries.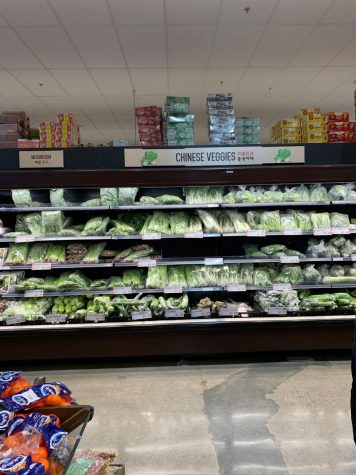 H Mart is the epitome of the typical Korean-American supermarket: it houses a food court, a grocery market, and pre-made snacks. The food court is home to several popular Korean and Korean-American restaurants, such as Paik's Noodle, which serves jajangmyeon, a fermented black-bean sauce with vegetables and meat, served on noodles. The court also includes Daeho Kalbijjim & Beef Soup, which serves an especially delicious seolleongtang, an ox bone broth with beef brisket and noodles, in addition to their famous kalbijjim, or braised beef rib stew. Further, the best, crispiest KFC (Korean Fried Chicken) can be found at Left Wing, which I strongly recommend. 
Next are the groceries of H Mart: fresh produce includes Korean vegetables, fruits, and Chinese vegetables. A variety of juices and other drinks are available adjacent to the dairy section, where milk, yogurts, and cheeses are sold. The dry food section is home to noodles, Korean pancake mix, instant foods like ramen and udon, pasta, canned foods, and more. The meats look delicious—some are fine cuts ready for purchase, and some are already marinated for a quick meal. Any Korean would also be on the lookout for kimchi (a fermented vegetable, typically a pickled napa cabbage) which, of course, they have readily available right next to the prepared foods section.
The prepared foods section is home to a wide variety of dishes. These dishes range from simple banchan (small Korean side dishes) to kimbap, japchae, and kimchi pancakes. Kimbap is seaweed-wrapped rice rolls stuffed with vegetables and cooked meat, similar to sushi rolls. Japchae is a Korean stir-fried noodle dish with glass noodles and vegetables that delivers a salty but somewhat sweet taste. Kimchi pancakes are flour-based pancakes with kimchi and other vegetables such as chives. While these foods can be bought prepared, the ingredients for each one can be found in the store and recipes reside on H Mart's convenient app. This prepared foods section is common in East Asian markets and offers quick and easy options for a substantial snack or light lunch or dinner. 
H Mart has countless food products from all over Asia, expanding the selection to many different cultures and cuisines. This supermarket provides easy access to common East Asian foods for anyone from the Asian and non-Asian communities living in San Francisco. Taking my first step into the store was nothing short of enchanting; I became convinced that I had stepped into a typical market in Seoul. Each moment, whether ordering in the food court or browsing the shelves was utterly fascinating: I felt like a curious child who had just found his home. H Mart is home to wonderful foods and new experiences. It is unquestionably worth a visit if you want to experiment with Asian cuisine and explore new cultures.
Leave a Comment