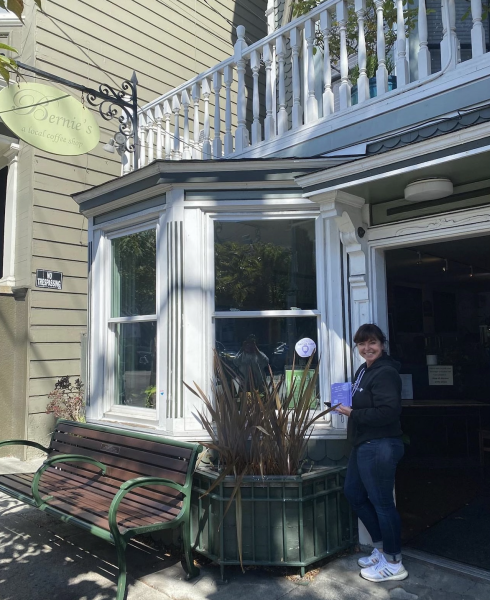 Bernie, an owner of a coffee shop in Noe Valley expresses the challenges of owning a small business with the pandemic leaving an indefinite impact on her store and passion.
As her passion for coffee began in college, Bernie, owner of Bernie's Coffee in Noe Valley, describes how her job at a small shop in Belmont has developed into a long-running small business. Independently owning her small business for multiple years has provided Bernie with several challenges, but coming out of the pandemic opened her up to a new window of both opportunities and struggles.
Bernie emphasized that staffing was an issue before the pandemic as healthcare and other benefits were hard to provide. "But now," Bernie says, "the problem with staffing is that everyone wants to work remotely and nobody wants to work in customer service." Not only has hiring become more challenging, but the amount of customers has severely decreased. Now as people separate themselves from several COVID protocols, customers struggle to understand some of the adjustments that have remained post-pandemic. Bernie explains that she "learned a lot during the pandemic; about a condiment station for example, and how much of that table was taken freely, from napkins to a handful of sugars." These expenses would add up, taking large amounts of money out of her business – a cost that cannot be wasted as her daily customer count dropped from around 400 to just 100 people.
Furthermore, as the competing coffee chain of Starbucks has closed for renovations across the street, Bernie expresses disappointment in regards to this barely impacting her sales. Now with mobile orders and Doordash's rise to popularity, few leave their homes to get coffee anymore, and pay extra to have people do it for them. Bernie adds that as working remotely becomes more popular, "Nobody's coming out of their house being like 'Starbucks closed – let's go across the street to Bernie's.'"
Despite the challenges she has faced, Bernie expresses that one of her favorite things about her job has become more clear in the past few years. "As hard as it is working alone," Bernie admits, "the community supporting me through the pandemic and still supporting me is probably the best." Seeing how Noe Valley residents stepped up to offer encouragement during this time of desperation has instilled a lot of confidence in Bernie and the future of her career.
 As San Francisco continues to make adjustments following the COVID-19 outbreak, Bernie expresses her hopes for herself and other small businesses across the city. "I hope that eventually, more companies will require people to return to the office," Bernie says. "If we can increase the foot traffic then I will be able to hire more employees, which will hopefully lead to increased sales."
With all the benefits and challenges that have followed Bernie over the past few years, it is clear that her love for coffee and the Noe Valley community is one thing that will always remain consistent. She says her secret to success is "a small black coffee" followed by her  "iced Bernie's Espresso with vanilla and half and half."