Interview with SHC's Band Members: Getting to Know Our School Band Better
We've all seen SHC's amazing Band perform, whether it's at football games or their instrumental concerts. However, what goes on behind the scenes? The Emerald interviewed some Band members for their thoughts on being part of SHC's music program. Here's what they had to say:
Emerald: Why did you decide to Join Band? 
Ethan Wu '23: I joined Band because I had already been playing the clarinet for six years by my freshman year, and I wanted to keep it up.
Noah Stofferahn '24: I initially joined the Band because I like music, and it was the most enjoyable way to do a VPA. I only knew how to play piano, but I quickly learned how to play the tuba, which was very new to me. I found Band an exciting way to play interesting music with other cool people, which is why I continue to do it.
Colin Woo '24: I joined Band during my freshman year because my brother was in it, and I played an instrument. I joined and I am now in my third year, enjoying playing music.
Kat Leong '24: Mr. C asked me if I could consider joining as a bassist last year in the second semester.
Emerald: What do you have to do to prepare for events/shows?
EW:  Depends on the event/show. For football and other sports games, we practice our marching Band songs every Block 7 in the Band room, and we try to learn as many quick and easy songs as possible. 
NS: To prepare for smaller events and shows, we usually spend about two or three weeks preparing. However, for concerts, we usually spend months learning the songs, and perfecting them. Practicing them and making sure we know them inside and out is the main way we prepare for concerts. During the week before the concert, we practice in the theater to make sure we have everything working in the theater.
KL: Prepare not to die, breathe, practice scales, practice having stage presence…
Emerald: Which event or show has been your favorite so far?
EW: My favorite event was the Bruce Mahoney. We spent hours every day for a week preparing. We practiced marching and memorized our music, and when we finally performed at half-time, it was a very exhilarating experience!
NS:  I definitely found our most recent show my favorite, as it feels like it's the one I did the best in. I also feel satisfied in how much fun my friends and I had, and how well we all did.
CW: For me, I loved playing at the Warriors game last year. It was great playing and getting to be there in the Chase Center, especially with the SHC community there.
KL: This year's winter concert!
Emerald: What do you enjoy most about being part of Band?
EW: I most enjoy the people. Band members have formed their own community. We have so many shared experiences from events, shows, concerts, and field trips, and it feels like a second family.
NS: The part I enjoy most about being in Band is playing music with my friends. It's a great experience being able to create something so beautiful while working together with people who you enjoy spending time with. Additionally, Mr. Cumberbatch is an amazing teacher; he's hilarious and helps us reach our fullest potential.
CW: I love the energy of the Band, and our amazing director Mr. C. It's a fun class, but we also are determined to play the best music we can. I have many friends in Band that I never would have made otherwise and I'm really glad I met them.
KL: I love having jam sessions after hours with my friends from jazz.
Emerald: Are you looking forward to performing at the Chase Center for the Warriors game this year?
EW: Yes! Although we won't be performing the national anthem like last year, I am still excited to be representing SHC and supporting the Warriors by performing with the Band before the game begins just outside.
CW: For this year at the Warriors game, I am excited. We might not be playing the national anthem, but I think we can still show the Bay Area who we are, and what we are capable of, which is great music. And for opportunities like this, we have to make the most of it, so I am going to really enjoy it.
KL:  Yep! I'm excited to play in front of the crowd most definitely.
For its members, being part of the Band program is something really special and meaningful, as it is a space where they can all enjoy music together. Mr. Cumberbatch has made a huge impact on all the members, and we can't wait to see more amazing performances from them!
Leave a Comment
About the Contributor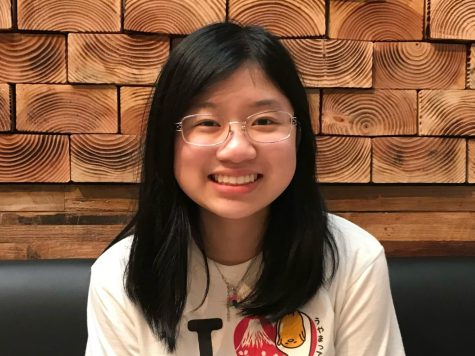 Courtney Mar-Lew '24, SHC News Editor



Courtney is excited to serve as this year's SHC News Editor, helping writers report on SHC's latest events and stories. Aside from the Emerald,...