As the summer's end approached in San Francisco, many gathered in Golden Gate Park for the city's annual music festival, Outside Lands. From Kendrick Lamar to Foo Fighters to Lana Del Ray to Odesza, there's music of every genre for every attendee. This year was this reporter's second year attending the beloved festival, and it exceeded expectations once again – here are some highlights in case you missed it!
Ethel Cain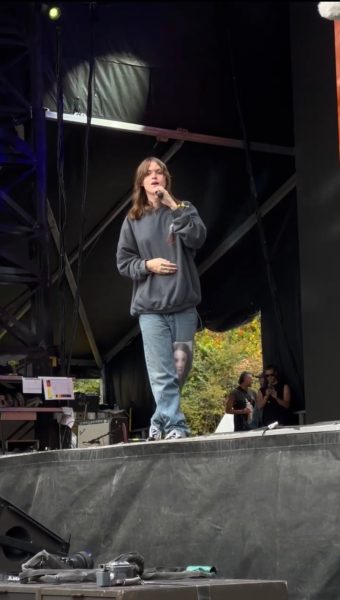 Ethel Cain is a new artist on the rise from Tallahassee, Florida, and her music can be described as southern gothic. Excited fans arrived at the Sutro stage an hour and a half before her set began, in order to be in the front row, and it was definitely worth it. Some highlights of her set were the opening song, "A House in Nebraska," a 7-minute ballad about loss and loneliness and "American Teenager," Cain's biggest song, which is "an expression of my frustration with all the things the 'American Teenager' is supposed to be but never had any real chance of becoming." (Cain for Pitchfork). "Crush," Cain's version of a love song, where she climbed into the crowd and held the mic to her devoted front row fans was also a highlight. This was the first set I went to of the weekend and seeing the show front row was really surreal – there were moments where Cain and I would share eye contact as I sang her lyrics back to her. Ethel Cain is coming back to San Francisco this October – I'd recommend getting tickets!
Lana Del Rey
Lana Del Rey, singer-songwriter extraordinaire, graced the Twin Peaks stage with her headlining set on the second day of the festival. Lana is well loved by her fans for her songs about tragic romances and glamor, and it showed with a very large (and loud) crowd. Jasi Mann '24 described the set as "life-changing," claiming the song, "Young and Beautiful" as her favorite of the evening. Mann also recounted how close she was to the stage without even realizing, stating, "When she finished performing, it took so long to get out of the crowd. It felt like the whole festival was watching her." Lana Del Rey was a favorite performance of many attendees of the weekend; between her vocals, the production, and the ambiance, it was an unforgettable show.
Noah Kahan 
Noah Kahan's recent album, Stick Season, was so successful that Kahan himself still struggles with grasping his newfound fame. Kahan headlined the Sutro stage on the final night, gathering a large crowd of fans ready to scream out and cry to his lyrics. SHC senior, Oskar Ovalle, attended and raved about the performance saying, "'False Confidence' live changed me." Ovalle also emphasized how great the crowd was, giving lots of energy, saying, "You could tell everyone there was a fan and truly appreciated the music being performed."
The 1975
The 1975's show was a standout performance at the festival.. The four man band from England absolutely rocked their headlining set at the Twin Peaks stage Sunday night. Right before their set began, Holly Humberstone, an artist who had played the stage earlier in the day and expressed her excitement to see The 1975 later that night, walked through the crowd and said hello to a few fans, which built the excitement and energy of the crowd higher. Their set was the most fun I had all weekend, jumping, dancing, and singing the whole time. Favorite songs they played were "Love If We Made It," which lead singer Matty Healy describes as, "the gem of hope amongst all of the rubble"(Genius Lyrics),  and "It's Not Living (If It's Not With You)." They were a perfect end to a wonderful weekend of live music!
It is safe to say that myself and many other SHC students had an amazing time at Outside Lands 2023, and are counting down the days until the festival returns in 2024.