Mr. Sazo's Views on SHC's COVID Protocols
After 18 months of distance and hybrid learning, SHC finally returned to an all in-person schedule on August 16th. It's clear that the faculty have put a great deal of time and effort into the school's safety and scheduling policies, ranging from changing block rotations to frequent COVID testing for unvaccinated students. Now, a full month into the school year, the Emerald asked Mr. Sazo about the process of deciding upon and implementing the protocols that students see this school year. Here's what he had to say:
This year's schedule is very different from previous years. Can you walk me through why you decided to make such major changes to the existing schedule?
One thing that we kept from previous schedules is using Blue and Green days, which we had before in the past. We knew that there was going to be a transition for students coming back from strictly distance learning, so we wanted to build in some times that were going to be a little different within the school day. That's where we came up with the Founder's Day schedules and tried to fit various needs that we had throughout the year, such as class assemblies, in-class meetings, masses, rallies, and so on. Founder's Day is kind of like our little Swiss Army knife; we can use it for any one of those schedule changes. But I think the biggest change is that we went away from White schedules. So if anybody notices, we don't start school days at 7:55 anymore. Instead, for most of the students who have either blocks 1 or 4, school days will start at 9:30. With this year's schedule, we have… more times where blocks 7 and 8 are meeting.
When and how did you decide that the 2021-2022 school year would be all in-person?
We made that decision pretty much last year. We let the parents know right around May of last year, and from April, we were telling everybody that if everything went right, our goal was to be back in person. As a school, we felt strongly that it was important to have our students back on campus. We felt it was very important for us to have an in-person experience. So we were happy that we were able to do so, but from early on in the pandemic, our goal was always to have all the students on campus.
Was there a question of what to do with students who didn't want to come back?
It was discussed, but again, in reality, we felt that if we took the right safety measures and so on, everybody could be on campus. And we want to be sensitive to specific students' needs, but we feel more strongly that it is important for everybody to be on campus. We think it's been a plus.
Why wasn't it a requirement for students to be vaccinated before coming back to school?
We could not mandate that. We asked families to let us know, and we've gotten some great responses from everybody. Parents voluntarily requested and provided that information, so the data that we received from every family has been really good. I think it goes hand-in-hand with our policy, which is that if you're vaccinated, you don't have to test every week. So parents were more than willing to provide the information that their child is vaccinated, and students who are not vaccinated all have to do a COVID test every week.
Is there a plan for if the school suddenly needs to go back to distance learning?
We do have our plan in place. Unfortunately, we've had practice doing it from last year, so everything's kind of in place. Even our schedule can work as a distance-learning schedule if needed. So, again, we're ready to do so, but we are hopeful that we won't need to based on how the school year has started.
What's one thing you would change about the school's safety policies?
I think as of right now, everything's gone well. The biggest thing to be cognizant of is making sure parents do not bring their kid to school if the student is not feeling great. That doesn't mean that they have COVID, but we're just being extra cautious about it. We've had some situations where kids have shown up to school and do not feel well, and we send them home. But we want to make sure that parents are just a little more diligent about it. A lot of them have been great, but I'd love to be batting a thousand with that one issue.
__________________________________________________________________________________________
In addition to SHC's COVID safety protocols, the Emerald asked Mr. Sazo about the email on September 10th regarding off-campus incidents and emphasizing the importance of student awareness while leaving campus. He revealed that the email was prompted by several instances of catalytic converter theft and robbery that involved students. Mr. Sazo also reminded students to be extra vigilant as they are leaving school and to take responsibility for their own safety while off-campus.
The Emerald's conversation with Mr. Sazo demonstrated SHC's thoughtful approach to ensure the health and safety of students during our return to campus. The school's protocols have helped prevent transmission throughout the student body, even in cases when fully vaccinated individuals have tested positive. Despite the uncertainty presented by the Delta variant, SHC COVID cases have remained low due to the comprehensive procedures implemented to ensure student safety. Although the COVID pandemic has shown that no one can predict the future, we should be confident that the administration is prepared to address whatever new challenges arise.
Leave a Comment
About the Contributor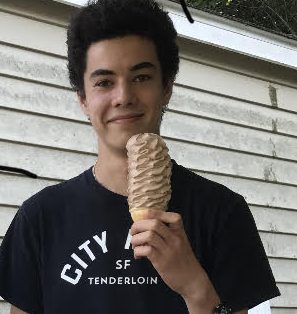 William Holland '23, SHC News Editor
This school year, William will serve as the SHC News Editor and hopes to bring greater participation to the section. He enjoys swimming and gaming with...