The SHC Frosh Experience: Digital Learning Edition
SHC's Class of 2024 consists of 345 charismatic and talented students. Due to COVID-19, many changes have taken place as they transition into the new 2020-21 school year. This high school environment is completely new for the freshmen, especially highlighting the fact that the majority of their high school experience this year might happen digitally. Despite this, the whole SHC community has been working hard towards providing the freshmen with an exceptional SHC Frosh Experience.
Recently, the freshmen have stepped foot into their high school career through an unprecedented format: distance learning. Despite the anticipated changes due to COVID-19, many have adjusted accordingly. Carlos Ramirez '24 explains that he's "been doing pretty well so far this school year. I appreciate office hours because it enriches my learning and allows me to communicate with my teachers. Even though the only way I can talk to my classmates is through Zoom and other social platforms, I made new friends along the way."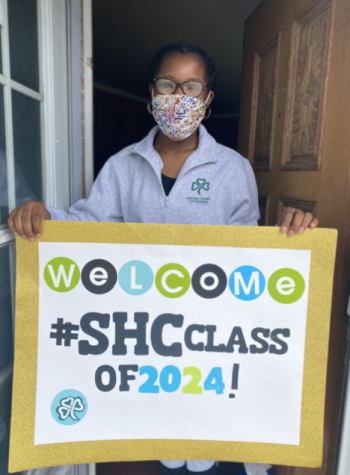 The SHC administration, faculty and staff, and student body have been working hard towards providing the freshmen with sessions to further help them smoothly transition into the new school year. Due to not being able to go back on-campus for Jumpstart, SHC revised Jumpstart by including what they would do during Frosh Orientation and holding it through Zoom. Ms. O'Neill specifically notes that they were impressed with the almost perfect attendance of all 345 of the frosh. "Much of the credit for that goes to our new registrar, Ms. Veronica Zermani, and the many faculty members and Student Government officers and Wellness Ambassadors who facilitated sessions." Additionally, Ms. Diaz and the Student Council have done an exceptional job organizing Frosh Fams, which take place on Founders Fridays starting at 1 pm. Ten freshmen, categorized alphabetically by last names, are grouped with one Student Council member and one teacher moderator through Zoom. In these Frosh Fam sessions, there are opportunities for bonding through games and icebreakers. Also, check-ins take place and student leaders ask how school is going for the freshmen. They have found Frosh Fams to be especially beneficial when being welcomed into this new high school environment. Analuisa Alfaro '24 states, "I would say Frosh Fams have made me feel a lot more welcomed into the SHC community. I've made new friends from it and even though the sessions can be awkward at times considering they're through Zoom, they're honestly really beneficial to me."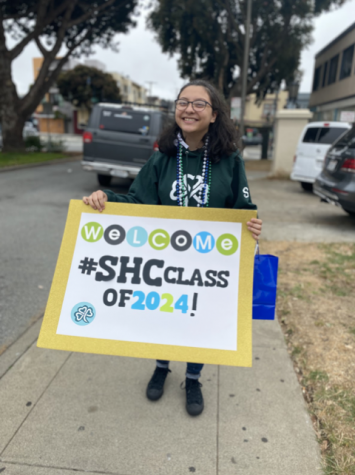 Furthermore, the school administration so far has done an outstanding job in terms of communication with parents. The parents of Melat Serkadis '24 assert that "the school has ensured that I can keep up with my child and their progress in school. SHC also has great communication with families." During these times, the school must frequently stay in touch with students and families. Dr. Cannon emphasizes how the administration wants to make decisions at least a month in advance to offer a degree of solidity and certainty. A parent of Angeline de Castro '24 believes that "SHC's easy to follow schedule for distance learning allows my daughter to ensure that she won't miss any classes. Also, the communication from teacher to student is clear and causes less frustration during these circumstances."
For the freshmen, walking into a completely new learning environment is challenging, especially regarding the circumstances. However, Ms. O'Neill states, "The single most impactful step to prepare for all of our students was professional learning over the summer. That focused specifically on effective distance teaching, building community and cultural fluency in our distance classrooms and school, and on adaptive assessment strategies. There were several study groups meeting, as well as planning efforts led by Dr. Bailon, Mr. Ferrante, Dr. Harrison, Ms. McFadden, and Ms. Shapiro." The faculty has been working hard to come up with a variety of ways to provide students with ease during distance learning. Mr. Ayala also adds, "One thing we have all tried to do is to try and build community. Creating an opportunity to meet new people, especially for freshmen. The hope is that over time everyone will have seen everyone in a smaller setting and have built some familiarity."
"
The hope is that over time everyone will have seen everyone in a smaller setting and have built some familiarity."
— Mr. Hugo Ayala
Despite the disadvantages of digital learning, freshmen have begun to adapt to the high school environment because of the efforts of the SHC community. As the school year progresses, the emphasis on a caring and inclusive community will remain prominent, and the freshmen will fully adapt to life at SHC. 
Leave a Comment
About the Contributor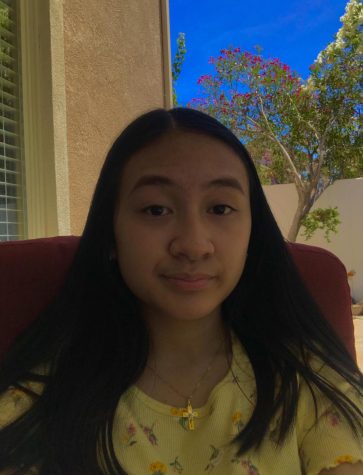 Nicole Mabborang '23, Head Copy Editor
This school year, Nicole Mabborang is excited to serve as a Copy Editor for The Emerald, ensuring that articles are free of all grammatical errors. Along...