SHC's 30th Annual Walkathon: A Record Set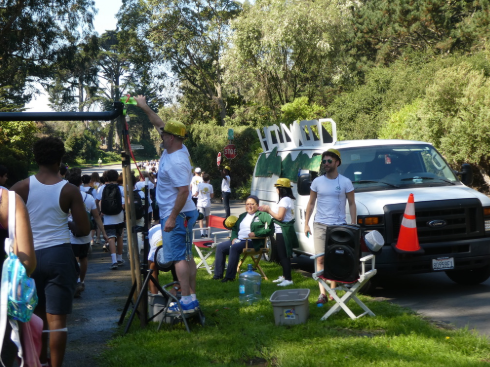 "The 30th Annual Walkathon has been great so far! This year we broke a school record for the Early Bird deadline, bringing in over $130,000! This year we have seen a spike in online donations and online fundraising pages for our students– we have over double the amount of online fundraising pages than we have ever had– which is great! School spirit is on the rise during Walkathon homerooms- homerooms compete against each other, come up with fun nicknames, and of course, wait for all the 'woohoo's' on the announcements! This is a great year, and we're excited to see what our total ends up being! WHOOHOO!!" -Ms. Hipp
After weeks of preparing for the 30th Annual Walkathon, students have finally begun to arrive at the Polo Fields in Golden Gate Park. Despite the sweltering heat and the bright sun, students persevered and finished their three-mile loop around the park to celebrate the holiday earned. Students raised a staggering $240,000 to make for an amazing 30th Annual Walkathon, a school recordset.
Raising money for renovations at school, scholarships, technology advancements, the library, travel, and elevating school spirit once a year in the fall, the Walkathon provides a great opportunity for students, faculty, and the SHC community to get together and have fun while also supporting their academic journeys. This year, funds are going towards the De Paul Gallery Project, making a more versatile and comfortable environment as you enter the campus.
The sun was already scorching before the Walkathon started. Sitting on the bleachers, students listened to music and watched a few games to lift school spirit. After some announcements and a prayer, Leilani, Norielle, and Kiara stood and sang a beautifully harmonized National Anthem. Following this, a round of "finish the lyrics" took place. The Juniors triumphed over all classes and the staff. After thunderous applause, the walking began. Starting with the Seniors and ending with the Freshmen, students pushed through the heat to complete the three-mile walk around Golden Gate Park. Water stations were set up along the paths and teachers cheered students on and using slips of paper, stamps were collected at stations.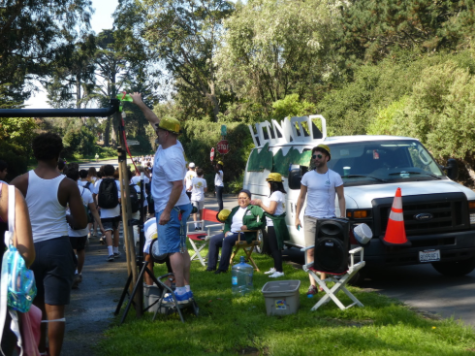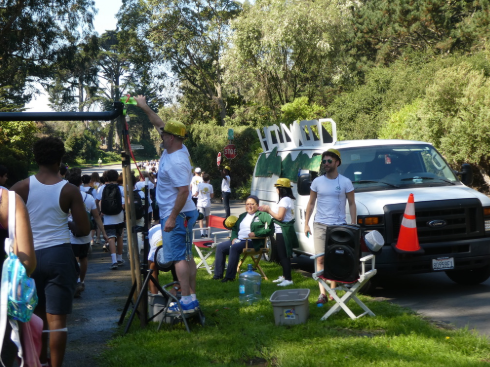 Freshmen, sophomore, juniors, and seniors with their banners to start the Walkathon. Photo Credit: SHC's Yearbook Club
Edited by: Nicole Mabborang
National Anthem Video:
WALKATHON TOTALS FROM THE PAST 3 YEARS
| | | |
| --- | --- | --- |
| Year | Student Average $ | Total $ |
| 2017 | $130.47 | $172,605.90 |
| 2018 | $118.52 | $157,157.41 |
| 2019 | TBD | $240,000 |