Spend a Summer at SHCP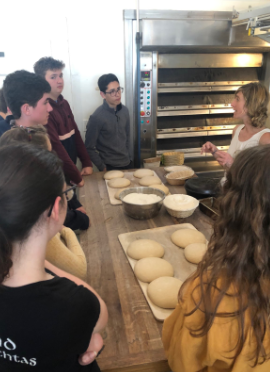 With exams finally over, the 2018-19 school year came to a sad but much-needed close. The end of the year, however, does not mean the campus has gone quiet一in fact, far from it. Despite school being over, the SHC campus is as lively as ever. 
To ensure they begin their high school experience as smooth as possible, SHC requires incoming freshmen to participate in Jumpstart, a one-week session that includes vital information for the upcoming school year. Jumpstart teaches freshmen how to use multiple sites such as PowerSchool and Schoology, both of which will be frequently used throughout their next four years. Beyond the logistics, the freshmen also get a good chance to get a good feel for the campus and make new friends before the first day of school. Good luck, Class of '23!
While the newcomers prepare to begin their journey at SHC, current students use the summer break to their advantage, taking challenging but compelling summer courses. Taught by Mr. Ragusa, incoming sophomores take summer geometry to get ahead of the game. Using resources like IXL, a helpful online math site, students learn everything they need to know: sine, cosine, and tangent; angles, shapes, and lines; surface area, and much more. Summer accelerated geometry compresses the content of a yearlong course into a quick five-weeks. For the rising sophomores, this means they must remain especially studious: making sure they understand the content of each class and make use of all their class time. In addition to geometry, many incoming juniors take Honors Biology, an intensive course in which students learn a new chapter each class and complete daily quizzes and labs. One particular fascinating lab includes a rat dissection, where students study its anatomy in a hands-on learning experience. 
Last but not least, students looking for a less conventional learning experience take one of the eleven Academic Explorations coordinated by Mr. Morris: Crash Course Costume Design, Introduction to Sports Medicine, Global Explorations through Film, Big Painting, Careers in Marine Bio, Hear and Now, Organize your life with a Bullet Journal, Sourdough Culture, Women's Suffrage, Model Rocketry, and Wilderness Survival Skills. In Global Explorations through Film taught by Ms. Susoev in early June, students watched several films, asking questions like "Why do some people rise to power and some do not?" or "How has our need to share beliefs built human culture?" This, along with many other Academic Explorations at SHC this summer, was a great way for students to enjoy their summer break with their peers while also continuing to learn. "I learned a lot about people's life stories and how they overcame challenges and fought to make not only their own lives better but also others," says Enrique Mac Murray, a senior at SHC. While these students learned through films, students in Mr. Hren's Wilderness and Survival Skills Academic Exploration will be spending their time overnight at Point Reyes. There, students will explore anything from fire building to nature-related poetry.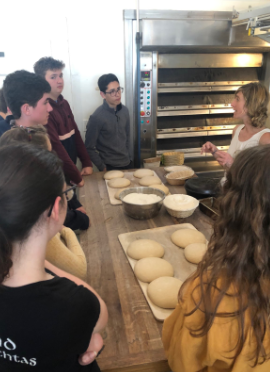 Making Sourdough AE. Photo credits: Mr. Callary
Stay tuned to the Emerald or check out the school website for more information about SHC's summer courses, activities, and camps to stay connected to the Irish community. Have a great summer!