Dots and Loops: A Foray Into the World of Avant-pop
Most people typically envision pop music as contemporary hits like Ariana Grande, Ed Sheeran, and Olivia Rodrigo. They think of four-chord melodies, catchy choruses, and lyrics perfect for posting on Snapchat and Instagram stories. However, pop as a genre is way bigger than you may think. The diversity is unmatched, ranging from experimental music by the likes of Björk and Arca, to the more DIY sound of indie pop artists like Belle and Sebastian. 
Two years ago, my friend recommended that I listen to a band called Stereolab while we were working in Art 1,2. The name didn't ring a bell, and I certainly wasn't that interested in listening to something unfamiliar. An avant-pop group, Stereolab makes ample use of buzzy synthesizers, clean-tone guitars, jazzy basslines, and calming French vocals in many of their songs. Their style is akin to the indietronica of the band Broadcast, which I never expected to be replicated by another source. However, when I started listening to "Brakhage," the first song on Dots and Loops (1997), arguably Stereolab's most famous record, I was instantly stunned by how paradoxically simple yet complex their soundscapes were.     
Like tuning into a radio station, the beginning of "Brakhage" is noise-filled, jarring, and off-putting. As the drums and (what seems to be) xylophone kick in, a sense of normalcy washes over, leaving you satisfied and yearning for what's to come. Named after experimental filmmaker Stan Brakhage, this track sets the mood perfectly with its avant-garde sensibilities and infectious tunes. Laetitia Sandler smoothly sings lyrics criticizing the overwhelming materialism in capitalist societies. The whole song has a one-of-a-kind sound, and it's a perfect opener to the superb album ahead.
"Miss Modular" and "The Flower Called Nowhere" are equally as spectacular. Richard Harrison's basslines are steady, groovy, and easily complementary to the freely-played synths throughout. Like "Brakhage", the vocals are soothing and utterly infectious—compared to their previous album, Emperor Tomato Ketchup (1996), Sandler's vocal style is sleek yet more evocative. This sound also contrasts heavily with some of their other works, which focus on more rigid compositions (see "Ping Pong" and "Cybele's Reverie"). 
Songs like "Ticker-tape of the Unconscious", "Rainbo Conversation", and "Refractions in the Plastic Pulse" particularly pique my interest due to their heavy emphasis on atmospheric soundscapes. This stress on such soundscapes is uncommon to find in the music of that period, let alone indie pop—but Stereolab nails it. Diverging from traditional indie conventions, Stereolab embraces the flow, allowing them to get immersed in playing. With unexpected sonic detours, swirling synths, and intricate textures, it's easy to get lost in these songs. 
Folks I've talked to in both the band and Music Listening Club seem to agree—this record is impeccable not only in content but also in creativity. As Floyd Nostratis '24 puts it, Stereolab's "utilization of new technologies like tape loops and audio manipulation help the album achieve blissful sounds." He considers it to be "one of the best albums [he] has ever listened to—one [he] will cherish forever." Noah Stofferahn '24 notes how Laetitia Sandler's singing on "Miss Modular" was "beautiful" and "pleasant to listen to." He also enjoys the use of brass instruments throughout the song, as they "complemented the vocal melody nicely and allowed the song to switch leads." Daniel Haken '24 also loves the instrumentation, especially the "use of vibraphone, warbles, [and] vibrato" in "Brakhage," as it contributes tremendously to the atmosphere. 
Needless to say, Dots and Loops is a one-of-a-kind album that is definitely worth listening to. For audiophiles, this record is rather impressive in terms of sonic quality and mixing. Stereolab's innovative sound is clearly present, and they are far ahead of their time in terms of both technique as well as composition. With unique synth work from Morgane Lhote, Laetitia Sandler's dreamy vocals, and Richard Harrison's rich bass playing, this album is great for those willing to explore the world of art-pop. 
9.2/10
Leave a Comment
About the Contributor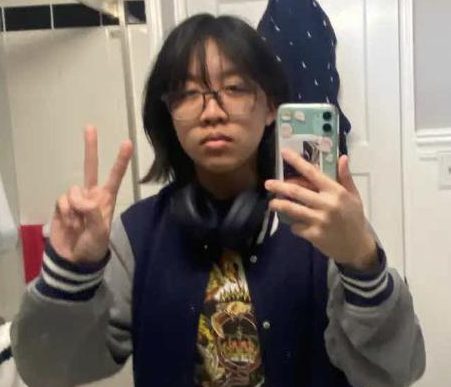 Kat Leong '24, Arts and Culture Editor
Kat, a rising senior, is happy to serve as one of two editors for the Arts and Culture section. Along with working at the Emerald, they are heavily involved...