SHC Student Summers: Highlighting the Minions Movie
Since its release this past July, the family movie Minions: Rise of Gru has garnered overwhelming worldwide success. The movie is the fifth part of Illumination Entertainment's Despicable Me series and follows the thrills of an eleven-year-old, aspiring supervillain named Gru and his humorous yellow minions long before their initial appearance in 2010's Despicable Me. Set in the 1970s, the film incorporates a vibrant color palette with many disco-inspired looks and has several scenes inspired by the streets of San Francisco.
As of August 30, Minions: Rise of Gru has earned over $869 million in world box office sales, and most would expect the movie to be popular among children and their families. However, according to polling service PostTrak, during its July 4th opening weekend, 34% of viewers were teenagers aged 13-17. This statistic is striking because the franchise's previous movie, Despicable Me 3, had only 8% of its opening audience in the same age group.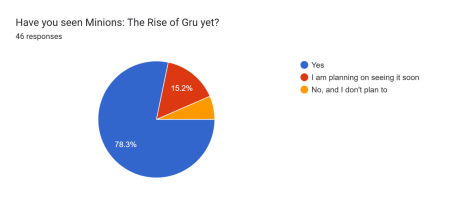 The Emerald recently conducted a poll asking students whether they have watched the movie yet or not. Out of 46 student participants in all grades, a notable 78.3% of them have already seen the movie, while 15.2% plan on watching it soon.
So, how did the Minions Movie gain such overwhelming popularity among teenagers, especially at SHC?
In short, a combination of social media, strategic marketing, and targeting childhood nostalgia.
Social media has been one of the largest marketing strategies for the film's success. Thanks to platforms like TikTok and Twitter, the Minions marketing team revived the franchise and encouraged teen engagement by replying to users' posts and memes. This strategy was highly successful, especially because much of their target audience, Gen Z, grew up watching the Despicable Me movie series. Esme Kay '26 commented, "I think [the movie's popularity] is all from the teenagers reliving what it was like to be a child. These movies came out originally when we were younger, and they were a childhood staple." 
Building off the marketing team's engagement, teenagers created social media trends to celebrate the Minions Movie release. One of the most well-known was "Gentleminions," where groups of teens dressed in full suits to watch the movie in theaters. Other people contributed to the Minions craze by creating amusing memes, pranking their loved ones with minion-inspired face paint, and joining online minion "cults", in which participants changed their social media avatars to minion pictures in support of the movie. Sofia Fleri '25 remarked, "I found it really interesting how this one select movie was dominating social media. It felt like no matter the platform I was on, there were videos of people dressing up or doing other Minions-related activities."
However, some people took these trends too far. As reported on primary news sources like ABC News and the BBC, some movie theaters outlawed the Gentleminions trend due to rowdy behavior; particularly, teenagers were throwing things at the screen and being disruptive to the younger audiences in theaters. SHC students agreed that this behavior was unacceptable. 
"It's not fun for anyone," Sierra Jew '24 reflected, "I think it's fine to have fun as long as you aren't disturbing other people. It was upsetting to see theaters full of people getting kicked out because of some random people trying to get likes on TikTok." Mateo Campos '23 shared a similar sentiment, commenting, "I didn't like that some people who went to the movie were obnoxious and rowdy because that ruins the trend." Ana Wing '25 remarked, "I don't really mind the trends as long as it isn't hurting anybody. It's not fun if everyone is screaming throughout the entire movie and ruining it for families and the staff, but if people are just having a good time respectfully, there's no problem."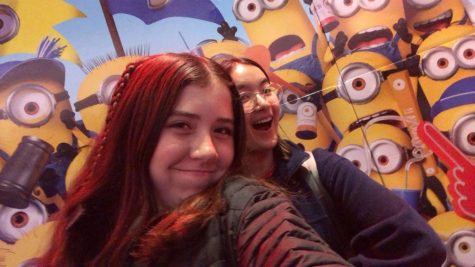 Other, less social media-focused ways the marketing team appealed to their teen audience was through relevant collaborations. For instance, the production team commissioned popular artists, such as Kali Uchis, Phoebe Bridgers, and H.E.R, to feature in the movie's soundtrack.
Furthermore, on June 21, the family restaurant chain IHOP partnered with the Despicable Me franchise to create a limited edition "Minions Menu", with movie-inspired dishes like the Ba-ba-banana Pudding Pancakes, Cinna-minions, and Gru's Evil Steakburger. Overall, students had mixed opinions on the menu. Thomas Bolls '24 enjoyed his dining experience "despite the food being pretty mediocre and too sweet for my liking." Contrastingly, Conor Hansbury '24 commented, "The IHOP menu was gross. The banana pudding pancakes tasted like if you melted down banana laffy taffy into a thick, viscous paste."
In terms of the film itself, students expressed a mixed range of movie critiques in the Minions Movie poll. Here are a few highlights:

"I loved the movie! I loved the 70s theme and how they incorporated covers of songs from the 70s by current artists in the soundtrack. 10/10, highly recommend." -Emily Thorsen '23
"I think I had higher expectations for the movie because of all the trends going along with it. Overall, it just felt like a typical kid's movie sequel." -Sofia Fleri '25
"I thought that the individual scenes were funny, but the plot was pretty bad." -Gabi Cameron '26
"I think that some of the criticism is uncalled for. Personally, it seemed like people's expectations were too high; after all, it's only a minion movie. If you are looking for something with an amazing, original plot, this movie isn't for you, but if you are looking for a good time with friends, I highly recommend it." -Sierra Jew '24
The Minions movie has taken teenagers on a pop culture rollercoaster with its outrageous trends, jokes, and controversies. While not everyone has supported its success, ultimately, the movie should be remembered in a positive light. Thanks to the Minions Movie, teenagers at SHC, and across the world, have been able to come together to have a laugh and enjoy lighthearted fun during their summer.
View Comments(1)