Letter from the Editors – Start of School
Dear Readers,
Summer is moving fast into fall, and it's a kickoff to yet another school year! Your Emerald Editors are looking forward to bringing you a new and improved destination for the latest news at SHC; created by students, for students. This year we are expanding beyond your traditional news articles to include podcasts, videos, art, and other multimedia content. Our online edition will cover all you could want. From the latest sports win, to the VPA performance currently showing; from the news going on right here at 1055 Ellis st., to a student's take on global events; from opinionated articles to photo-essays and art pieces, we've got it all! Check back each week to see what new content your peers have created at https://www.shcpemerald.org/ .
The first few weeks at Sacred Heart Cathedral have already been full of excitement. The Walkathon Rally brought the school spirit, with a hilarious take on the Amazing Race; an epic performance encompassing the quintessential parts of San Francisco featuring Luca Hettenkofer as Mr. Rogers, and Nicki Shaw sporting the entire city on a gigantic hat; and a relay between the grades where of course "we're gunna give it to the sseenniioorrss!" The student body has already raised over $90,000 — way to go! The official 29th Annual Walkathon will be on September 14, 2018, where students will meet at Polo Field, ready to walk for delicious foods like hamburgers, chips, and hot dogs, while being cheered on by the spirited faculty and staff!
For freshman Mieko Dimitroff, "These first few weeks have been really good. Peers, staff, and especially teachers have been so supportive, and even with the Schoology mix up, my assignments have been turned in." Mieko is looking forward to high school and says "I hope to learn what I want to succeed in doing in life, to be a part of the community, and to prepare myself for my future. My goals right now for my future career [is] cardiothoracic surgeon."
Yet another successful event was the Activity Fair. The Emerald would like to give a special thank you to all that stopped by our stand! We would also like to shout out to Kali Hoang, who made delightful mini cupcakes spelling out, "The Emerald—You bake me want to write!"
and Jessica Chan's creative poster that (ice) screamed, "What's the Scoop?" If you see yourself as a content creator like these two students, find your place at the Emerald today! We meet White Days every other week at Room 508. The schedule is posted in the Emerald Group: join by our access code, 6RP92-K3S4B.
Best wishes for a great school year,
Amy La (Editor-in-Chief)
Elsa Rafter (Managing Editor)
Elizabeth Han (Head-in-Content)
About the Writer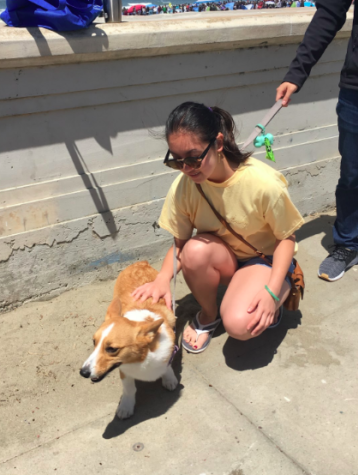 Amy La '20, Editor-in-Chief
Hey everyone! My name is Amy La, and I'll be this year's Editor-in-Chief. Besides the SHC Emerald, I'm involved in other school activities such as...