Transitioning into Sports Post-Quarantine
In March of 2020, Sacred Heart Cathedral closed down all in-person learning and activities due to COVID-19, halting its fall and spring sports. Many outdoor sports were able to resume in some capacity during the spring of 2021 when outdoor sports held adjusted, shortened seasons. On June 15, 2021, California lifted its mask mandate, ultimately making it possible for the SHC Athletics department to resume summer training and offer indoor and outdoor practices. With lessened COVID-19 restrictions, the SHC athletic program is now offering a full fall sports schedule ― from volleyball and girls golf to cross country and football. Looks like we are back!
Throughout the years, SHC athletics have held a considerable amount of importance for faculty, coaches, and students. SHC Varsity football player Brian Coyle '23 says, "[The suspension of SHC sports] definitely impacted my life as an athlete. The football season was completely cut in half, and we lost more than half of our games sophomore year." This sentiment is shared amongst our student-athletes who either lost an entire season in their sport or had a brief limited season during the spring of last year due to the COVID-19 restrictions. 
Co-Athletic Director and Varsity volleyball coach Margi Beima asserts, "I think we all did everything we could via Zoom, and it just got old. I would say that a lot of what we lost during the pandemic is that we were unable to do indoor weight training. That was two off-season cycles for a lot of sports. So, in some respects, much of the off-season and strength and conditioning training is brand new for 70-80 percent of the program… they had never done a workout with Coach Peuse." Not training with our school's athletic trainer, Coach Peuse, between seasons can mean that student-athletes lose strength during their off-season and miss opportunities to build their endurance and stamina. 
Now, with relaxed COVID-19 policies, most athletes are grateful to be back doing what they love, whether it's sharing laughs with a teammate or scoring a touchdown in a game. 
Will students ever feel that things have gone back to normal? According to Brian Coyle '23, "It feels like I'm playing back in my freshmen year when we would just travel on buses to games and be hyped to leave school early and have a full crowd of fans while playing… and yeah, ready to take on the new season." Brian has a positive and hopeful outlook, but in indoor sports where wearing a mask is mandated, like volleyball, a "normal season" still has its challenges. Margi Beima adds, "The one thing that's a little tricky in a very loud gym is that oftentimes, you can read each other's lips and some of that facial expression that is cut off a little bit with masks on." We know that facial expressions and cues are vital to competing in a team sport such as volleyball.
"
There's a lot of excitement amongst everyone, especially because you know we're going to have fans back in the stands.
— Mr. Freed
Phil Freed, SHC's Athletic Director, says, "We had tennis matches, golf matches, a volleyball game, and a football game this week. There's a lot of excitement amongst everyone, especially because you know we're going to have fans back in the stands. I think it is exciting and scary because all these kids are playing in front of people for the first time." 
A large part of the strong community feel at Sacred Heart Cathedral comes from being involved in the events that take place, whether it's playing a sport or chanting loudly from the stands. Despite a year-long intermission, SHC students and the Athletic Department are thrilled to start off the year with football games and tennis matches.
Leave a Comment
About the Contributor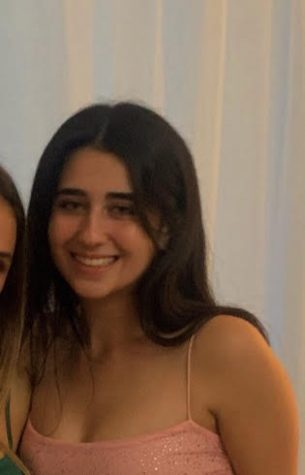 Priscilla Diaz '23, Copy Editor
Priscilla is a copy editor for the Emerald and a senior at SHC.