[email protected]: Share Your Idea, Change the Conversation, Shape the World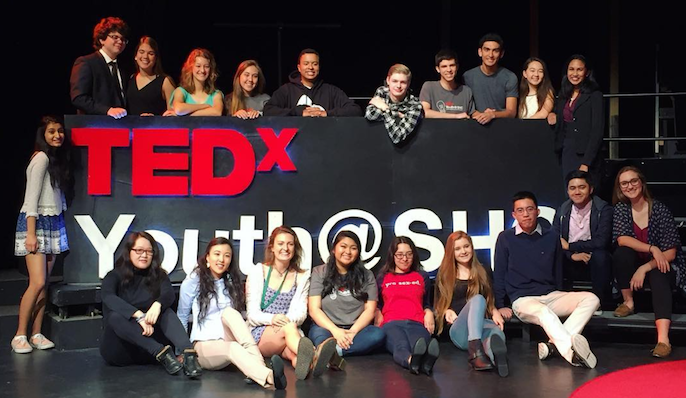 Share your idea.
Change the conversation.
Shape the world.
[email protected] provides individuals the inimitable means by which to accomplish all of this. In its third year, [email protected] is an independently organized TED event run entirely by middle and high school students age 13-19. With it, speakers have the ability to get up on stage and share what they are passionate about to a supportive, enthusiastic group of listeners. From musical performances to spoken word pieces, lessons on self-admiration to sex education, and thought-provoking discussions about racial inequality to gender stereotyping, talks are both diverse and mesmerizing.
TED itself is a nonprofit organization that began over 30 years ago as a conference in California. Their mission – to spread ideas – is in attempt to seek a greater understanding of the world as we know it and continually inspire communities to the appreciate the power of ideas. Over the years, the conference has grown exponentially, and now occurs annually in Vancouver, British Columbia. Notable speakers have included Bill Gates, Jane Goodall, Sal Khan, Elizabeth Gilbert, and even former i2 Director and AP Chem teacher, Mr. Ramsey Musallam! He, along with Ms. Kathy Lorentz, and now Mr. Liam Carey, have poured their hearts and souls into this program to ensure that our generation continues to have a means by which to explore their own creativity and innovation.
The thought of delivering a talk has frightened many over the course of the past three years. Yet, for those who have embraced their fear and taken the risk to apply, the experience has undoubtedly paid off.
"Speaking at [email protected] last spring totally changed my life. I gained way more confidence with public speaking, I became more comfortable talking about myself, and made so many new friends! People from outside and inside SHC had amazing stories that I would have never heard otherwise. I loved the variety of people and topics that shared the stage with me. I feel so blessed that I had this opportunity and that I made a mark on the world, especially being so young. I definitely feel like I made the right choice by pursuing this opportunity and can't imagine not having this awesome feat under my belt!"
~Vita Solorio-Fielder '17
"I gave a TEDx talk as a freshman, and it was honestly the highlight of my freshman year. Giving a talk was something on my bucket list, and it felt really good to do something I've always aspired to achieve. The entire experience was thrilling. Nothing in the world can beat the feeling you get standing on the stage in front of a full audience and cameras, sharing to the world an idea or innovation you yourself came up with."
~Katherine Pan '18
"[email protected] was by far the most amazing experience I have ever had. The most enjoyable part was definitely when I got to meet speakers from all around the Bay Area! I got to learn their stories, their struggles and triumphs, and it was eye opening! The experience further taught me better techniques for public speaking and speech writing! Normally I perform on that same stage singing, acting, dancing, as a completely different person telling a completely different story. It was so rewarding to be able to speak as myself, place myself in a vulnerable position, knock down my walls and tell my story, not some character or made up person. I have officially made friends for life, supporters, who will stand by me in my successes and in my failures. People have watched my talk heard my story, and I have never been more happy."
~Carter Roa '17
For those interested in applying, it's not too late! The deadline is December 28th, 2016 and can be found here. Don't forget to visit the website for more information!