Green Matters: The Inflation Reduction Act
This year, the Emerald is running a regular column focusing on the climate crisis. In this first segment on the Inflation Reduction Act, we'll provide an overview of what the bill includes, focusing on details about its environmental provisions. Keep your eyes out for the next installment of Green Matters.
On the 7th of August, 2022, the U.S. Senate passed the Inflation Reduction Act, and five days later, the House followed suit. Following over half a year of debate, revisions and hasty compromises, Democrats finally arrived at a consensus and, using the budget reconciliation process, managed to pass the most substantial climate bill in U.S. history without a single Republican vote. 
Although H.R.5376 includes much more than climate provisions, this is where it is most notable. It grants over $350 billion to climate change mitigation and environmental justice and puts the country on course to reduce greenhouse gas emissions to nearly half of 2005 levels by 2030. It does this through a variety of tax credits and funds directed at different parts of the economy.
In terms of energy and infrastructure, it provides an investment of tax credits to renewable energy sources, essentially subsidizing green energy to counter fossil fuel subsidies. Furthermore, it encourages consumers to purchase energy-efficient vehicles and home appliances by granting tax deductions and credit. Funds are also directed towards green energy infrastructure, such as transmission lines and industrial facilities. Offshore wind farms will receive leases and other incentives, while oil and gas companies will pay extra fees for leasing public lands. Construction materials and projects with low carbon footprints will also be supported. Ultimately, this bill includes extensive support for the domestic clean energy manufacturing industry.
To create immediate improvements, the bill provides funding for the National Oceanic and Atmospheric Administration (NOAA), focusing on climate research and coastal disaster preparation. In an effort to improve air quality, funding for the Environmental Protection Agency (EPA) will bolster efforts to replace vehicles and equipment that use diesel, while also monitoring and reducing greenhouse gas emissions.
In the realm of conservation and land management, the Inflation Reduction Act grants significant funding to the U.S. Department of Agriculture (USDA) for both forest restoration and conservation programs, as well as carbon sequestration. There is also a strong emphasis on ecosystem rehabilitation and restoration projects, invasive species management, wildfire prevention, and climate-smart agricultural methods.
In an important move striving for climate and environmental justice, the act benefits frontline climate communities with provisions against hazardous materials, funding for Native American tribes to address climate change, air monitoring for vulnerable communities, pollution cleanup by industries that created the pollution in the first place, and community-led projects in these areas.
Finally, the bill supports research into a variety of environmental issues, from climate mapping and screening, to future projections, to tracking the disproportionate burden of climate impacts on vulnerable communities.
While many are still doubtful due to the provisions Democratic Senator Joe Manchin of West Virginia demanded in return for his vote, the oil and gas land leases that the IRA grants are relatively inconsequential except in principle because the increase in fossil fuel emissions is projected to be roughly 25 times less the rest of the bill's projected emissions reductions.
SHC Senior Sean Tom, a leader of the Earth Action CCC, commented that she isn't sure many students know about the act — despite its direct impact on our lives, even as students. While the act is a huge win for the climate action community, it also has notable benefits for all of us, from a 30% tax credit for solar installations, up to nearly $8 thousand for the purchase of an electric vehicle, and over $10 thousand for home energy efficiency upgrades, among other subsidies. Mr. Le, SHC's AP Environmental Science teacher, notes that "the Inflation Reduction Act is the biggest investment in staving off climate change in our nation's history.  We should and need to be role models for the rest of the world if we're going to help the people who are currently affected by climate change and our descendants who will have to live in the world we leave them." 
This is not a place for climate policy to stop — this is a start, and we have a long way to go.
View Comments (2)
About the Contributor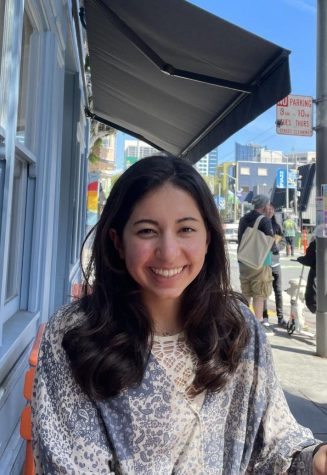 Atessa Anoshiravani '23, Editor-in-Chief
After three years of writing and editing for the Emerald, Atessa is serving as Editor-in-Chief during her final year at SHC. She's an avid bookworm and...