For years, tourists have regularly visited Maui, one of the Hawaiian islands, known as a major tourist attraction. Famed for its peaceful beaches, breathtaking sunsets, and deep-green mountains, the perfect tropical paradise enticed guests. However, it took mere days for that image to change. 
On August 7, a high wind warning was issued for portions of Maui County. Footage from one of the security cameras at the Maui Bird Conservation Center captured a tree falling on a powerline. This sparked the Upcountry Maui wildfire, which would become just one of several fires ravaging the island.
On August 8, a brush fire started near the town of Lahaina, cutting off the Lahaina Bypass and forcing residents to evacuate. For those who remained behind, the situation became deadly. Video footage showed families jumping into the ocean and hiding behind seawalls to avoid the flames, as the town behind them burned.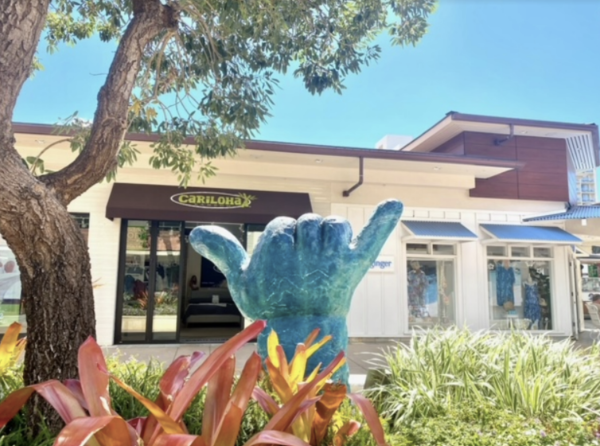 The following day, the residents of Lahaina found their town devastated. Thousands of structures were damaged or destroyed in and around Lahaina, and an estimated $5.52 billion worth of property was consumed in the wildfire. People returned to their homes to find everything gone. 
Christie Gagala, the cousin of one of SHC English teacher Ms. Cambe's close friends, was affected. "We lost everything. You know, thank God that, like, we still have each other and we're all alive and safe and accounted for. It's like we're the only things we have now because everything that we had in the past is gone."
People's homes were not the only things destroyed by the fire. Designated as a National Historic Landmark District by the National Park Service, Lahaina was home to several sites that showcased Hawaii's rich history and culture. However, the fire destroyed the Waiola Church, Lahaina's Heritage Museum, and other important structures throughout the town, erasing much of the progress in keeping Hawaii's history alive. 
So far, the Maui fires have killed at least 97 people. Adding to the misery, 7 people are still missing. For the families of the missing, waiting for information about their loved one's whereabouts has been agonizing.
The Maui fires have drawn the attention of President Joe Biden, who visited Maui on August 21 to assess the damage and speak to survivors. His motorcade drove through a scene of rubble and charred remains of homes and cars. "The American people stand with you," Biden told survivors. "For as long as it takes, we're going to be with you."
The general public has directed much of their scrutiny toward Herman Andaya, who resigned from his role as the Maui Emergency Management Authority administrator after the fires. While the fire was burning, nobody activated Maui's outdoor disaster alarm system. Furthermore, the power company Hawaiian Electric is facing a class-action lawsuit for allegedly playing a role in the fire's origins.
This same problem hits much closer to home for California residents. California has struggled with power companies, notably Pacific Gas and Electric (PG&E), sparking wildfires. In 2020, PG&E pled guilty to starting the Camp Fire, a devastating November 2018 wildfire that killed 85 people. Smoke from the fire spread all the way to San Francisco, closing schools and making the air quality detrimental to many residents in the area 
PG&E's lack of care for its equipment led to aging power lines and negligent maintenance, disregarding state regulations in the process. Just like Hawaiian Electric, PG&E's failure to effectively maintain its infrastructure led to the loss of human life. Especially in California, where wildfires are common, residents and government officials should pressure PG&E to make sure their power lines are up-to-date. Diverting more funds to PG&E will also ensure it can heed those demands. Doing so can reduce a major cause of wildfires, and ensure the safety of countless California residents. 
The communities affected by wildfires caused by power companies will never be the same again, and in the future, these companies, as well as many others throughout the country, must follow government regulations and keep their equipment up to date. 
California residents in particular should pay attention to and assist Maui residents as they recover, since the problem of devastating wildfires hits especially close to home. Showing solidarity with the survivors ensures that when Californians are again faced with deadly fires, the Maui community will stand with them. 
Additionally, in our own SHC community, we can help survivors of the fires by making a donation to the numerous organizations active in Maui right now. Large, national organizations like the Salvation Army and American Red Cross provide supplies and aid to survivors, and more local organizations such as the Maui Food Bank prevent survivors from experiencing food insecurity and going hungry. Donating will ensure that survivors get the help they need to survive their uncertain circumstances. 
---
Here is what the SHC community had to say about the devastating incident:
"I'm honestly so shocked by this unexpected and fast-moving turn of events. It's hard to believe something that was unknowingly a threat just weeks ago became a disastrous tragedy known all around the nation. I hope that this will be the time that many will step up and help the people whose lives were devastated by wildfires." – Sam Wai '25
"Native Hawaiians have been telling people that tourism is actually bad for them and yet no one listens. And now that this natural disaster has happened, many are missing and have died because the tourists that have heard of the tragedy already wouldn't cancel their trip." – Tina Nguyen '26
"It was really scary to see how quickly the fires were spreading and I'm devastated for everyone affected, especially those who lost their homes, jobs, and loved ones. I hope people will continue to find ways to help and support Maui residents as they start to rebuild and recover." – Emily Takamoto '25
"I'm not from Maui (I'm from O'ahu), but when I heard and saw the devastation and videos of the chaos that ensued, my heart broke into pieces. Two of my good friends lost absolutely everything. My friend left her home to go to work in the morning with just her laptop and car and had nothing to come home to. No clothes, no surfboard, no bed, no photos or personal belongings. Another friend and her husband and children had just purchased a home months ago and had hardly had time to enjoy it before the fires took it. It was chaos, people were just trying to survive and locate their loved ones amidst the wreckage. This chaos seemed to either bring out the best or the worst in people. My cousin in Lahaina couldn't leave his home for a while because people were looting houses that were still standing, understandably people were desperate. The people of Maui still need supplies, they still need help even though the news cycle is over it  Some folks will never see some family members again. Places where so many memories were made with family and friends… gone, nothing but a memory. I'm sure many people who have visited the kingdom of Hawai'i have heard of the "aloha spirit", the generosity and friendly love that folks from Hawai'i impart on everyone they meet, and the aloha spirit of giving without expecting something in return. Right now, and for a while, the people of Lahaina need the world, especially those that frequent Hawai'i on their vacations, to impart some of that aloha spirit they inspire in visitors, to help them overcome and rebuild." – SHC Librarian Ms. Tapia
Natural disasters such as the Maui wildfires have a profound impact on the communities and people they affect. They also serve as warnings that can help people better prepare for another disaster that may occur in the future. The nation should pay special attention to the Maui wildfires and assist survivors, all while preventing such large-scale destruction from taking place again.