The Warriors' Moves in the 2020 NBA Draft and Free Agency
After a season that was, to put it lightly, disappointing, the Golden State Warriors received the second overall pick in the 2020 NBA Draft. This year's draft was full of uncertainty. Due to the ongoing COVID-19 pandemic, March Madness — the popular college basketball tournament that showcases college basketball's best — was cancelled. Thus, teams and fans have not been able to analyze many of the players in this year's draft to the same extent as in previous years. Moreover, many draft experts had said the talent in this year's draft was not as deep as in previous ones. This caused fans and pundits alike to wonder if the Warriors would trade their second overall pick, perhaps to get an established player who would help them immediately, rather than a rookie who might take years to develop.
Our questions were finally answered on November 18. With the first pick overall, the Minnesota Timberwolves selected Anthony Edwards, and then it was the Warriors' turn. Despite the lack of depth in the draft overall, there were still some very talented players available. In the end, the Warriors did not trade their pick, and they took James Wiseman, a 19 year old, 7'1, 247-pound center with a 7'6 wingspan.
Wiseman may have one of the most, if not the most, interesting stories of any player taken in this year's draft. In 2017, Wiseman's family accepted $11,500 in moving expenses from ex-NBA player and four-time All-Star Penny Hardaway. Although Hardaway did not accept a coaching job at the University of Memphis until 2018, the NCAA deemed Hardaway's payment an illegal incentive to Wiseman to choose U of M.  Wiseman was suspended for 12 games and required to pay back the $11,500. Wiseman denied intentionally breaking any rules and described the recruiting experience in an interview with ESPN, saying, "I was really in the middle of a hurricane." Nevertheless, Wiseman eventually accepted the punishment. 
Based on his suspension, and the fact that COVID-19 caused the cancelation of March Madness, by the time Wiseman elected to enter the 2020 NBA Draft, he had only played three games for Memphis. Some say if Wiseman had stayed at Memphis for one season, he would have easily been the number one pick in the 2021 draft, but many are skeptical about this assumption.
"
I'm my own person. I want to create my own path. I want to be the next James Wiseman so people look up to me someday.
— James Wiseman
Wiseman has been compared to Hassan Whiteside and an in-his-prime DeAndre Jordan, two well-known centers who can control the paint on both offense and defense.. When asked who he played like in an interview with the Undefeated, Wiseman responded, "Some people say Chris Bosh, Kevin Garnett and even David Robinson. But really, I'm my own person. I want to create my own path. I want to be the next James Wiseman so people look up to me someday. But I've patterned my game to those three players so I just say it."
As for why the Warriors picked Wiseman, having a talented "big man" is very important for the Warriors, who are in a conference filled with talented "bigs" including Anthony Davis and Nikola Jokic. Warriors' General Manager Bob Myers said, "We had him as our number one player on our board and you can't get any more excited […] when you get to draft the player that you like the most."
As for the Warriors' other picks and trades, with the 48th and 51st picks in this year's draft the Warriors took Nico Mannion and Justinian Jessup. Mannion is a 6'3 point guard from the University of Arizona. In the one year he spent there he made an immediate impact on the team's performance. Many have called Justinian Jessup, a senior out of Boise State, a sleeper in this year's draft. He is a 6'7, 200-pound shooting guard who shot 40.8 percent from the three point line in college. Although Mannion and Jessup could have an immediate impact on the team, the more likely outcome will be that they initially play on the Warriors' G-League team. The Warriors have a history of cultivating young players through the G-League and will likely do so with Mannion and Jessup.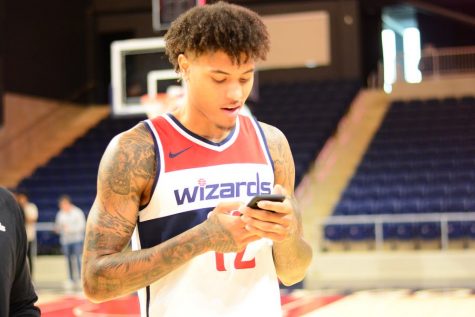 In a cruel twist, on the very same day the Warriors drafted these three exciting new players, Klay Thompson, one of their key existing players who had just missed the 2019-2020 season due to tearing the ACL in his right knee, tore the achilles tendon in his left leg and will miss the entire 2020-2021 season. This may make it more likely fans will see Jessup sooner, as the Warriors seek a short-term replacement for Thompson. On the other hand, in trades after the draft, the Warriors acquired Kent Bazemore, Brad Wanamaker, and Kelly Oubre, Jr., who are all much more experienced. Brad Wanamaker and Kent Bazemore will add some much needed depth to the team's bench as well as some. Kelly Oubre Jr. will find himself in the starting line up as last season he averaged 18.7 points and 6.7 rebounds per game. 
Klay Thompson's injury has dealt the Warriors' hopes of making the playoffs this coming season a huge blow. After missing the playoffs without Thompson last season, many Warriors fans had hoped for a strong comeback. Nonetheless, the Warriors still have All-Stars Stephen Curry and Draymond Green, and the promising young Andrew Wiggins. With a potential starting five of Curry, Green, Wiggins, Oubre and Wiseman, the Warriors and their fans will be hoping the team can get back to the playoffs and potentially even challenge for the NBA Championship again.
Leave a Comment
About the Contributor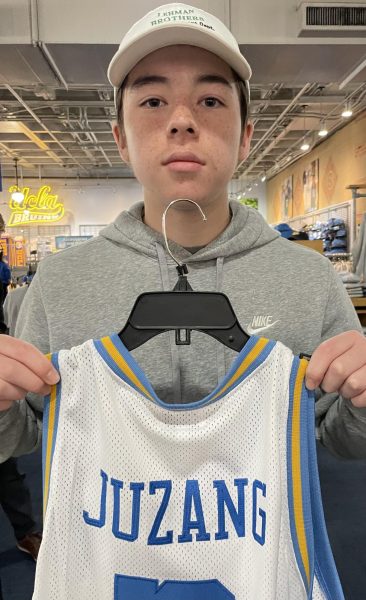 Liam Goodfellow '24, Sports Editor



Liam Goodfellow is a senior at SHC. He enjoys watching sports and writing about them for the Emerald. He also runs the Finance Club at SHC. Outside...