Running at the Largest Meet in the World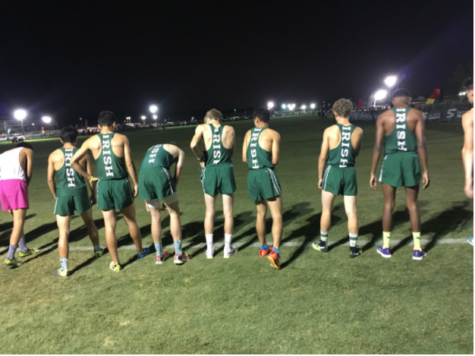 The Sacred Heart Cathedral cross country teams recently went down to Oaxaca in Southern California to run at the 37th Annual Skechers Woodbridge Classic, the largest meet in the world in 2017. It is located in the large Silver Lakes Sports Complex, a collection of 24 full-size soccer fields and 4 synthetic fields. The race consists of running squares around multiple fields for three miles. The course features flat terrain and well-kept grass,  resulting in fast times and high-octane running. What makes this race unique, however, is the fact that it takes place in the evening and at night. The fields are lit up with multiple large lamps. As the sun sets, the complex explodes with cheering from the thousands of spectators and runners.
     Each race has its own spirit, its own personality, and Woodbridge is no different. To me, the terrain of Woodbridge results in high competitiveness. There are few other races that give a such a good opportunity for setting a personal record in the 5k. The race's terrain awards those who aren't afraid to go out faster and be aggressive. On the other hand, there is also a lax atmosphere. The post-race expo offers a prime location to chat with fellow runners, pick up some freebies from companies such as Skechers and eat local food while still being a great location to cheer on others. There's a sheer sense of joy in being able to race hundreds of miles from home. It's the happiness in spending time with one's teammates before and after a race. Most people at the race were full of smiles and energy, ready to cheer for you and open to talking.
    Overall, SHC performed spectacularly. Forty-one runners out of forty-four medaled and the team earned four plaques. This is a large improvement over 2012, where there were 13 individual medals and zero team plaques earned. Compared to 2012, the times of the top five runners in each team improved by at least 2:37 minutes.  Stand-out performances included races from Junior Matthew Farruggio (15:57), Sophomore Sabina House (19:00), Senior Ethan Guerrero (16:03), and Junior Connor Sheridon (16:04). This stellar performance leads well into the start of WCAL season, which will be in early October. With such excellent races, the team is looking strong and ready to shoot for a CCS ring.
About the Writer
Lawrence Wu, Assistant-Editor
Lawrence Wu is a current senior at Sacred Heart Cathedral Prep. He joined the Emerald as a lowerclassman and has not looked past since. He is highly involved...