We all have gone through the experience of starting a new school and the rollercoaster of emotions that come along with it. Many are filled with anticipation and excitement, but also stress and fear. Although these emotions are commonly shared, each student has their own individual experience. To get a taste for these experiences, the Emerald delves into how this year's new students are beginning their high school journey at SHC.
In a poll for freshman and transfer students, the Emerald asked them to describe the start of their first year.  Responses ranged from "fun" to "chaotic," as well as "different," "overwhelming," "relieving," and many more. Each answer reflected the individuality of the new students' start at SHC. 
New students were also asked about extracurricular involvement.  Sports, clubs, and visual performing arts are great ways to explore and continue passions, as well as make new friends. Many new students joined a variety of these activities. Out of the students that were polled, 30% are playing a sport, 90% are in one club or more, and 47.5% are participating in visual performing arts this year.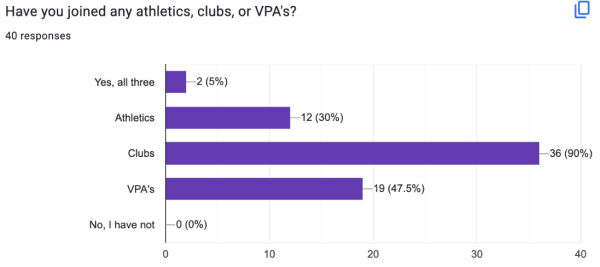 The final question asked of the new students was, "What has been your favorite experience so far?" Many students may have come to SHC feeling overwhelmed amongst the unfamiliar faces. However, the majority of the responses show that the highlight of the SHC experience so far has been meeting new people and making new friends. Shaina Caamal '27 expressed her positive encounters at SHC, by explaining "My experience has been so good – I feel like making friends was a pretty easy thing to do, and orientation really helped with that. Everyone has been so kind to me. So far high school is going great." For others, their favorite experiences were going to orientation and meeting new teachers. Many also signed up for fall sports, joined clubs during the activity fair, and enjoyed lunchtime. Piper Ling-Winick '27 voiced her favorite experience at SHC, stating, "My favorite experience has been the Activity Fair, because I got to meet people who shared my interests, and make new friends."
Whether the beginning of the year has been exciting or stressful overall, it is also important to recognize that through new beginnings, some of our fondest memories are made. The results of the poll show just how varied the experiences of new students have been in the past few weeks and display how different people with their own unique experiences found a sense of unity and belonging in the SHC community.