SHC Banners
Most of us have seen the SHC banners around San Francisco, but what's the story behind them? Mr. Mark Pardini, our school's Creative Director in the Office of Communications and Marketing, reveals the work behind the banners and their often overlooked role in SHC's marketing success.  
 How many SHC banners are there in San Francisco, and are there any outside of the city?
There are a hundred banners, but each flag comes in twos, so there are fifty sets of two around the city…although this past year we did more for the 170th anniversary, I think we did twenty-five of those, so total like a hundred-fifty last year, but I think we'll go back to a hundred this year.
There are none outside the city because you have to be in the city that you're putting banners up in, so we couldn't go to Daly City, Marin, or Oakland.
Whose idea was it to advertise the school with banners?
It's a long story; it actually came about in 2013. We rebranded the school and created the logo we have, the shamrock, and other stuff like that. It was a long process where a group got together, including my predecessor, the old Director of Communications. I was on the Board of Regents at that time, and I wasn't working for the school. There was a committee of about thirty people, teachers, students, athletic directors, and coaches. We went through about six months of figuring out what the brand was going to be. It was very important to get the branding solid. And once we did that, they did a whole pushout– it's called an out-of-home campaign. So at the beginning, the banners were part of a lot of new advertising we were doing, including stuff like being on the backs of buses or being on those little bus shelters. But after a while, we had to figure out what was the best use of our advertising budget; for buses, things get grimey, people destroy those bus shelters. The banners have really been successful since 2013.
How do you know that the banners have been successful with advertising the school?
We've continued doing them because everybody talks about them. When parents come and don't know much about the school, they'll go, "Oh, I know the school from the banners!" Everyone knows the banners– they're super popular, and I don't see that we'll discontinue them anytime soon, because they put us out as far as name recognition and the branding and that's how people get to know our school. 
How long do the banners last?
Every year we swap them out. The banners only last for about a year, physically, because they get beaten down by the weather and other things. It's a one-year placement that we buy with the city for these banners.
How much do the banners cost?
More than you think [laughs]. Well, let's do the math to produce and install… when these guys come up from LA with these banners, they go around in the middle of the night in a truck and just go up there to take down the old ones and put up the new ones…I would say probably $230 for each one.
What goes into the decision of the banners' placement?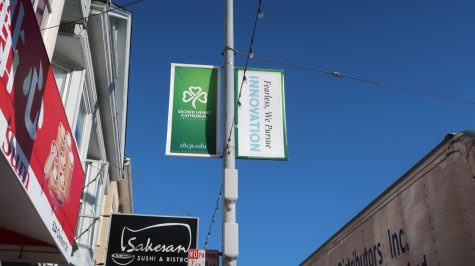 There are a lot of factors. A lot of it has to do with where we can put them that are near grammar schools. Also, there are high-profile, high-traffic areas like down in Mission Bay, near Oracle Park or Chase Center, which is basically a new neighborhood that sprouted up. Obviously, probably the most notable place we put them is right in front of some of our competitors' campuses, so that's always been one of the big points of enjoyment for our community, particularly the alumni who really get the kick out of that.
I work with the Admissions Department, and we go through locations– a whole spreadsheet of locations. We want to get this stretch of streets between 30th and 19th Avenue on Geary Boulevard because that's near St. Monica's, Presidio Middle School, and what used to be Star of The Sea. That's an area that's super concentrated, [like] West Portal, because there's St. Brendan's and St. Stephen's. There are certain areas with very high traffic. It's never really a static thing, we're always tweaking it.
For almost a decade, the banners have been extremely helpful in advertising Sacred Heart Cathedral, and as Mr. Mark Pardini says, "The banners are like a piece of the puzzle. They're a small part of what we do here, but it's an important part."
Leave a Comment
About the Contributor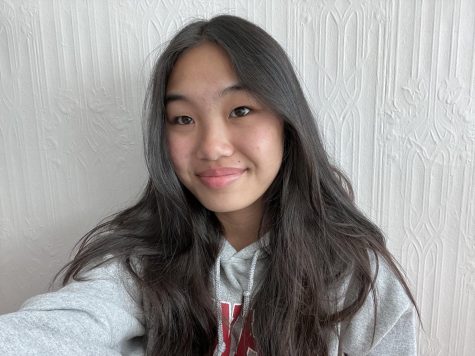 Catherine Tsang '25, Staff Writer
Catherine Tsang is currently a sophomore at SHC. Aside from the Emerald, she is a part of the Oracle and LVY. Catherine's other hobbies include photography,...