SHC's Wrestling Program: Triumphant Return and Next Steps
Like many sports, SHC's wrestling program was forced to shut down in the wake of the COVID-19 pandemic. Even after San Francisco's stay-at-home mandate was lifted, the full-contact nature of the sport delayed an immediate return. The program was forced to wait, even as sports like volleyball and tennis were approved due to their limited physical contact. In November, once the program was finally reopened, coaches and wrestlers had to adapt to new rules and protocols around practicing and competing.
For head wrestling coach Jack Schindler '09, this was "by far the most unique wrestling season I have been a part of." Coach Schindler has more than twenty years of wrestling experience both on and off the mat, and returned to SHC as a coach and Social Studies teacher in 2016. In recent weeks, Coach Schindler has led the team to victories over Valley Christian, Riordan, and Archbishop Mitty followed by an excellent tournament showing in which five wrestlers walked away as tournament champions. 
However, the wrestling team's impressive return has not been without its share of complications. Because of the risks involved with full-contact sports, the wrestling team must abide by strict safety protocols including masking during off-mat workouts and weight training. Additionally, the long time away from the wrestling mat has weighed on the team as a whole. After many months off of the wrestling mat, the team has had to work to regain its flow amid new safety developments. Coach Schindler remarked, "Our team was essentially placed in a time capsule due to COVID. The last time our seniors set foot on the mat, they were sophomores on JV." Nevertheless, the team has been able to continue its unique culture among SHC sports and emerge from the pandemic stronger than ever.
Despite a full year of inactivity, wrestling team sign-ups did not suffer from the pandemic. Coach Schindler reports, "Our freshmen sign-ups are average this year. We are seeing a lot more sign-ups in our sophomore/junior classes." One new addition is Kate Napolitana '23, who is quickly carving out a name for herself on the wrestling team. One of the five champions at the Livermore Barnburner wrestling tournament, Kate also placed first in her weight class against Valley Christian on January 18th. "​​After the total lockdown of the pandemic, tons of people who would've started wrestling during the pandemic joined the team, myself included," said Kate. "It's a really great community built on strength, determination, and hard work and I'm very lucky and proud to be a part of it." Unfortunately, Kate represents a minority on the wrestling team as one of only two female wrestlers. She hopes to inspire other female athletes at SHC to join the wrestling team and other traditionally male sports to continue the school's tradition of breaking down barriers and empowering women.
Despite the resurgence of the wrestling team in the wake of the pandemic, Coach Schindler recognizes that the team cannot simply return to where it was before the shutdown order. "It's been a tough process," said Coach Schindler, noting the difficulties of returning to active practice and competition. Wrestlers must wear masks at all times while off the mat. Additionally, the lack of dedicated wrestling facilities has been frustrating for Coach Schindler and his team. Throughout its entire history, the wrestling team has practiced and competed in one of the two gyms on the La Salle Campus. Coach Schindler commented, "The SHC wrestling team deserves a place to call home. The team needs a wrestling room." Such a location would undoubtedly make practice easier, as dedicated facilities would eliminate the need to set up and remove mats before and after practice. 
Whether the wrestling team gets its desired wrestling room remains to be seen, but with the team's recent triumphs, it is more likely than ever before.
Leave a Comment
About the Contributor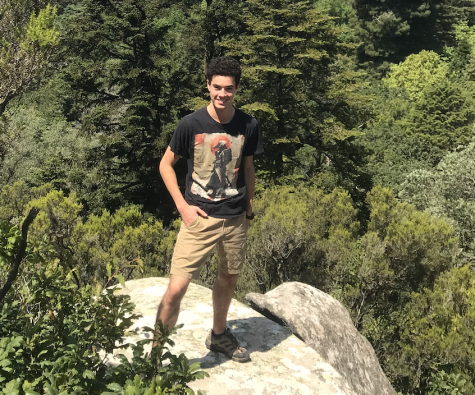 William Holland '23, Head Copy Editor



William Holland is excited to serve as Head Copy Editor in his final year at SHC, with a goal of maintaining the Emerald's high-quality articles....