Getting to Know New Teachers at SHC
This year, SHC welcomed many new teachers and faculty to their staff. The Emerald recently interviewed three of SHC's new teachers: Mr. Shahamiri (Scripture and Church History), Ms. Apablasa (English), and Mr. Liang (Advanced Algebra). 
*The interviews have been edited for clarity.*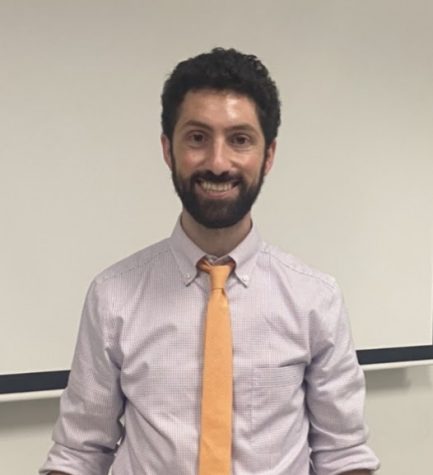 First, the Emerald sat down with Mr. Shahamiri, a San Francisco native who attended Saint Ignatius, Seattle University, and the Jesuit College of Theology, to learn about his transition into SHC as an SI alumnus and his passion for theology. 
Did you always envision yourself teaching as you grew up?
I think there were clues all along the way. When I studied theology, I really wanted to share it with the world, and I thought, wow, a great way to do that would be to teach. I'm really passionate about theology, so I can't think of a better place to bring that alive than in the classroom.
Did your passion for theology stem from your education?
Yes and no. In high school, I wasn't very passionate about it. I was pretty checked out with my religious studies education. That didn't have anything to do with my teachers; it just had to do with where I was in my life. I was questioning a lot about the existence of God, my own faith, contradictions that I saw within the Catholic Church, but I would say that the more that I became involved in the Works of Mercy in college serving people who were experiencing homelessness, the more I was led to come back to my faith and then to studying the faith academically. And that's where that passion really blossomed. So I think it was always there, but it's just interesting how God kind of guides you. 
What do you like most about being a part of the SHC community? Has it been difficult to join it, or has the transition been relatively easy?
I would say the transition's been relatively easy. Everyone has been super welcoming and friendly. You know, you can't always see someone smiling under a mask, but you can see it in their eyes. My colleagues in the religious studies department have been so hospitable, helping me learn what the curriculum is for each class, sharing resources, giving tips, and helping me learn about the school culture. 
What traditions are you most excited about that you can be a part of at SHC?
Walkathon, which we had. I saw lots of photos of people being super excited. I love Walkathon, it was great. A lot of folks were able to have their masks off, you could see their full face, it was fantastic. And the Bruce Mahoney, sitting on the opposite side of the bleachers. I am full-heartedly rooting for SHC. Go Irish! And I'm still learning; there are a lot of traditions I am going to learn during this next year. 
Having you as my Church History teacher, you're very upbeat, so what would you say influences your teaching style the most?
Other than the coffee I drink, I just want students to feel welcomed in my classroom, in a way that I've always contributed toward people feeling welcome in my life. I've always had a big smile on my face and been very enthusiastic. "I'm happy you're here" is what I try to communicate with my energy. 
Finally, do you have any advice for students at SHC?
Growing up there are so many messages for who you should be, and what you should do, and especially today with social media, we are inundated with even more of those messages. My advice is every once in a while, to close your eyes, find a quiet space, and focus on your breathing. Within that quietness, you will hear an inner voice, and that voice is who you truly are. Find that voice and live into it. 
_____________
Next, the Emerald got to know Ms. Apablasa, an English teacher hailing from San Fernando Valley near Los Angeles. She attended Villanova on a water polo scholarship and is now a swimming coach at SHC!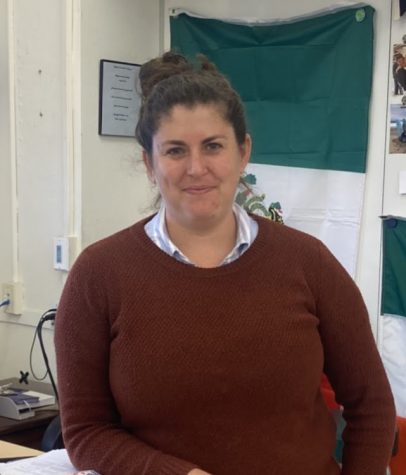 Was there anything specific that made you want to become a teacher?
I come from a family of teachers. We kind of call it the mafia in my family — it's the family business. In that way, I grew up looking up to teachers as heroes, within my own family and with an innate respect for the profession since childhood. 
What has your experience been transitioning to SHC?
Oh man, it has been a transition! I taught for ten years at a really small all-girls school. I'm getting used to not knowing everybody on campus and to working with a lot more teachers. Most importantly, SHC has a lot of history and pride that I'm just learning about — the legacy of the school in this city. As someone from Los Angeles, I'm very interested in city history. So now, in my new city, I'm very interested in learning everything I can. At SHC, that transition has been mostly doing my research. Everywhere I go, I meet someone who knows someone or was an alumnus themselves. 
What is your favorite thing about the SHC community?
I think the students here are really funny. There is a genuine sense of humor, and my students here make me laugh, and we can just kind of have fun together. I think that is a testament to how comfortable students feel here. It's not like I'm at the front of the classroom, giving information to you, it's much more of a relationship, and I really like that. 
Are you excited about any of SHC's traditions in particular?
I'm still learning. I'm going to be honest; my best friend went to Saint Ignatius. So I'm still learning about that rivalry. It reminds me a lot of the Dodgers vs. Giants. It's historical, familial, and it seeps into families. I'm firmly on the SHC side here. I'll be wearing my green. 
What would you say influences your teaching style the most?
I think the biggest thing that influences my teaching style is that I had trouble in school. I was diagnosed with ADD in 6th grade. I had to learn different ways to access knowledge and information because when I was at school, it was just a teacher at the front lecturing, so I had to find a way to make it work. My own experiences as a kid not having lessons catered to the way I learned really influenced how I teach. I think I've learned that sometimes the most difficult students make the best teachers because we know what it's like to have it a little harder.
_____________
Finally, the Emerald interviewed Mr. Liang, SHC's new math teacher and JV Girls Tennis Coach. An immigrant from Canton, China, Mr. Liang is a Lowell alum who later went to Sacramento State. As a tennis coach, he got his bachelor's degree in kinesiology (biomechanical body processes) three months ago from San Francisco State University.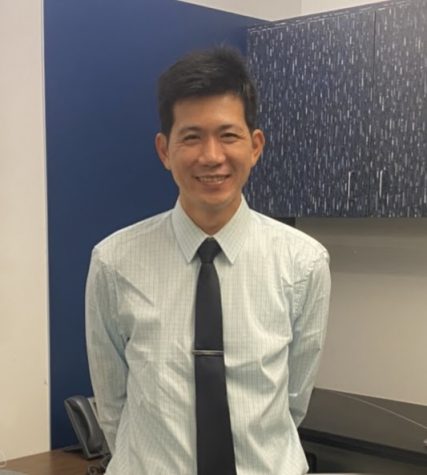 Did you always want to teach or coach in some way? 
It all started when I was in high school. I got a job in this summer school program called Aim High. I was a part of it when I was in middle school, and they asked me to teach math. So I agreed to do it, even though I had no idea what I was doing as a high school kid. But it was fun, and I decided that I wanted to be a teacher of some sort. I was never a good student, but I was smart, so I always wanted to teach in some capacity. It's just really satisfying to see people grow. 
Do you think your love for teaching helped you when you started coaching tennis more?
Yes. It just comes with training. I worked in the retail industry for four to five years, and that taught me a lot about how to communicate with people so I can get the right point across, and that translated into my teaching and coaching now. 
What do you like most about being a part of the SHC community? Has the transition been easy or relatively difficult?
The transition has been super easy. The whole SHC community is very welcoming. Everybody I talk to, every teacher and every student have been very helpful. 
Do you have any advice for students at SHC?
Plan. Plan ahead. That's the best advice I can give to students. If you plan ahead, you know what's coming, and you can be ready for it. 
_____________
SHC's newest teachers have a lot of wisdom to offer their students stemming from their diverse backgrounds. Teaching amidst a pandemic has not been easy for anyone, but these teachers have brought their prior experience and fresh perspectives to SHC's community to help students learn in the best way they can. Be sure to say hi to them in the halls!
Leave a Comment
About the Contributor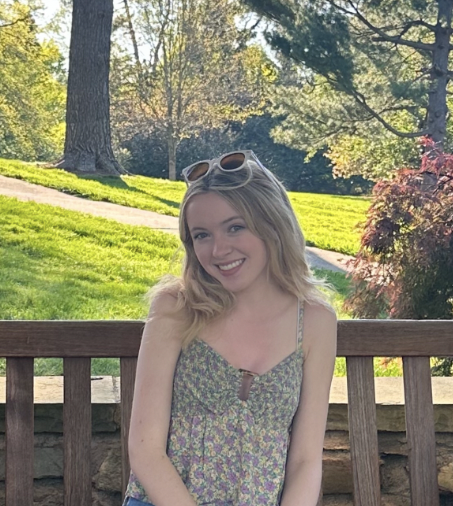 Kate Cassidy '24, Editor-in-Chief
Kate is so excited to be serving as Editor-in-Chief of the Emerald in her senior year. Aside from the Emerald, she is involved in student council, theater,...