"It's Not Just About the Math": An Interview with Ms. Pamela Gresh '09
Pamela Gresh '09 is one of many of SHC's bright and intelligent math instructors. Alongside her father, Peter Gresh '72, who is also one of SHC's math instructors, she is a graduate from SHC. Although many of you are aware she is an Instructor of Math, there is a lot more to uncover! "It's not just about the math," she mentions. We were curious to dive more into certain aspects of her life, such as reflecting back towards her times at SHC, how it's like working with her father Mr. Peter Gresh '72, and many more. 
Emerald: We'll start off with asking, what made you want to become a teacher?
Pamela Gresh: I've always loved school, learning, and education, so growing up I have always dreamed that I would be in the classroom. It started from a young age and eventually I developed a passion for math. I then decided in high school that I wanted to be a math teacher.
E: What do you like to do in your free time?
PG: I really enjoy cooking and trying new recipes. I also really enjoy hiking and being outdoors, especially near the ocean. Playing cards with my family is also one of my favorite things. And Giants baseball, but I'm just sad about that right now. 
E: When it comes to cooking, I'm a bit lazy and I just eat microwavable foods.
PG: It's okay, you have plenty of years to learn that!!
E: Where did you work prior to SHC?
PG: I've worked all in Catholic schools. I worked two years at another Christian Brothers Lasallian school in Napa called Justin-Siena. I also worked in Boston at a Cristo Rey school for two years. Now I'm here!
E: Do you like collaboratively working with Mr. Gresh? What are some challenges and how is it like working with him in general?
PG: I actually love it! He is someone who is never set in his ways, so he's always open to new ideas and changes in his curriculum, which sometimes not everyone is. We get along and we spend a lot of time together outside of classes and school. Challenges? No challenges. I just have to help him a lot with technology, but that's okay. He's also been a part of the community for 40 years, so I really enjoy getting to experience that with him. It's not just about the math — yes, we are colleagues and we both teach Algebra, for example, so we are on the same learning team, but it's also just about experiencing the school and Lasallian education with him. It's actually been something super special and something that I really cherish.
E: I know that you graduated from here, so I was just wondering what is a big change that you noticed compared to your years being a student at SHC? How has being a teacher helped you be a part of the community more outside of your time being a student here?
PG: First of all, being on this side of things allows for a different perspective, which has been helpful and I love getting to work with students just as teachers worked with me. I love impacting their lives and being someone for them. I appreciate being able to reach out and run activities, such as coaching or going to Kairos. I love doing those things to get to know students on a more personal level and guide them on that sense versus just always being in the classroom. In terms of things that changed, I think the biggest one has to be technology. We had some computers in the library and no smartphones. It has altered the way that school works. 
"
It could be my age, but I also just put an effort into building relationships, and I think that it's important to know what the kids are doing. The kids keep me hip too!"
— Ms. Pamela Gresh '09
E: At times, do you find yourself relating to students more than other teachers?
PG: Yes, definitely. With certain things, certain topics. I teach seniors too, so I'm closer to them in age than some of my colleagues. I can relate to kids fairly easily, but I also really like that. It could be my age, but I also just put an effort into building relationships, and I think that it's important to know what the kids are doing. The kids keep me hip too! I have learned a lot about TikTok.
E: I know! I always see the people in our class showing you different TikToks, whether it's dances or funny content.
PG: You guys definitely keep me young, which I really appreciate. 
E: There really is a joy in learning more about what the students are up to and what they like to do.
PG: This is at least how I feel, but when I went into teaching, yes, of course my main priority is to educate my students and teach them math, but there's so much more to teaching that I enjoy. It's not just about the math. 
During Ms. Gresh's time at SHC as a student, she was guided to her calling and passion: education and teaching math. However, outside of that, she clearly has a lot of insight to offer to the community, due to her great connections with both the students and her colleagues. 
About the Writer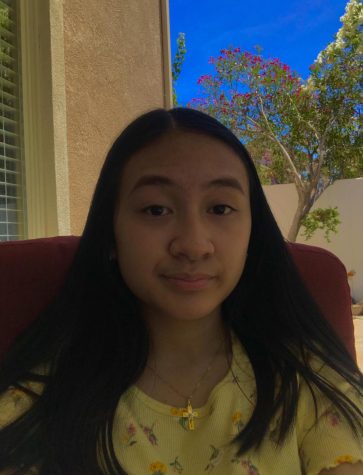 Nicole Mabborang '23, Copy Editor
This school year, Nicole Mabborang is excited to serve as a Copy Editor for The Emerald, ensuring that articles are free of all grammatical errors. Along...