On Thursday, August 24th, photos began circulating of Donald Trump's mugshot, the first of its kind in US history. Indicted for plotting to overthrow the 2020 election, this marks another landmark in the former president's everlasting struggle against a torrent of legal charges. While the Georgia arrest is already Trump's fourth arrest over the past few months, as asserted by the BBC, this is the first time he has been photographed for his charges. As a result, this arrest brings a much more public aspect to his ongoing case – less than 24 hours after the photo was released to the public, Trump could be seen plastered on everything from t-shirts to mugs to Donald Trump's X (formerly Twitter) account. Not only does this seem to be an enduring mark on Trump's dubious legal history, but it also exemplifies how he has continually benefitted from viral internet exposure.
Despite his contentious legal situation, Trump can still run for the presidency in 2024, a prospect he seems thoroughly committed to. Moreover, the mugshot's rapid circulation throughout the internet seems to have boosted his campaign. According to CNN, the Trump Campaign has reportedly raised more than $7 million since the photo went public, with much of that attributed to mugshot merchandise. Opponents, critics, or just people looking to make a quick buck have utilized the mugshot as a quick merchandise selling point.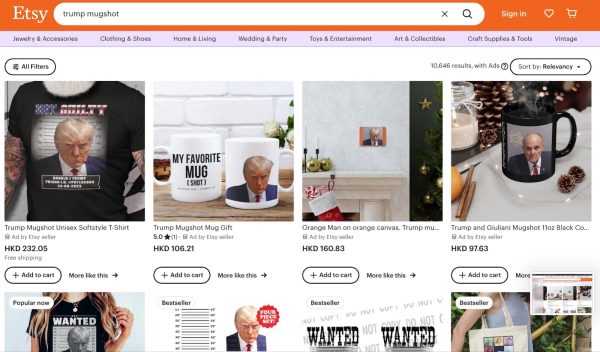 Like the mugshot and many other past examples, Trump has continually benefited from exposure on the internet, whether it's been from positive or negative origins. For example, even before Trump surrendered to Georgia authorities, the Trump Campaign marketed t-shirts with him edited into mugshot photos as a fundraising maneuver (AP News). Additionally, beliefs propagated by certain politicians and Trump himself that the 2020 election results were false repeatedly arose online. The exploitation of internet services is a tactic that Trump has embraced since his rise to the presidency in 2016. Like a company selling a certain product, Trump is essentially the product, while the mugshot is the commercial – as long as it sticks in the viewer's minds, Trump benefits. His ability to stay in the headlines has given him an almost unparalleled digital presence, with the mugshot only the latest in his long history of internet disruptions.  
The Emerald sent a poll to SHC students for comments on the mugshot. Of the 60 students who completed the survey, more than 90% had seen it floating around the internet. However, only around 50% knew what his charges were. The photo's evident popularity and rapid circulation seems to work in Trump's favor as he continues to improve his image without receiving much backlash. Like a company selling a certain product, Trump is essentially the product, while the mugshot is the commercial – as long as it sticks in the viewer's minds, Trump benefits. Furthermore, it is a reminder that knowing the context behind things we see online leads us to view current events more objectively and awareness.  
When asked his opinion about the arrest, Matthieu Bazile '25 said that it "means that he has absolutely no credibility to run again and proves the kind of person he is." Sam Meraw '25 comments that "in a perfect world, a trial would have taken place years ago and Trump would be…in prison, but overall I'm glad that a trial date has been set in place and we can all laugh at the mugshot in the meantime." Bearing possible legal implications for his future bid for the presidency, the mugshot's concrete reminder of Trump's subversion of law may weigh heavily on future voters.