Filipino American History Month 2022
Filipino American History Month at City Hall
In 2009, U.S. Congress declared October as Filipino American History Month (FAHM). FAHM commemorates the anniversary of the first Filipinos recorded to arrive in the United States, dating back to October 18, 1587. Furthermore, it honors the history, hardships, achievements, and legacies of Filipinos in the Philippines and the United States. It emphasizes the connection between Filipinos in the U.S. and Filipinos in the Philippines through shared culture. 
The Filipino-American community and San Francisco Mayor London Breed gather every year at the SF City Hall Rotunda to celebrate FAHM with the recurring theme of "Reflection. Resilience. Reinvention." Hosted by the Golden State Warriors' Filipino-American hype man Franco Finn and NBC Bay Area reporter and SHC Alumni Class of 2000 Ginger Conejero-Saab, this year's FAHM event featured keynote speakers, singers, dancers, and delicious food.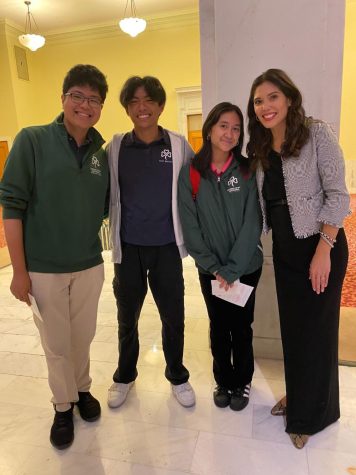 The celebration began with Mayor London Breed's proclamation, followed by remarks from Philippine Consul General Neil Ferrer. Kicking off the talent, the St. Augustine Children's Choir beautifully sang the American National Anthem, and Carlen Ocampo powerfully sang the Filipino National Anthem. 
San Lorenzo local and famous Filipina rapper, music producer, and spoken word artist Ruby Ibarra then performed a rap song. Through her body of work, Ibarra shares her cultural heritage and illustrates her unique experiences as an immigrant from the Philippines to the United States. Justin Pacho '23, a big fan, remarked, "Ruby Ibarra's music is inspiring. Through her lyrics, she encourages Filipino Americans to be proud of their identity.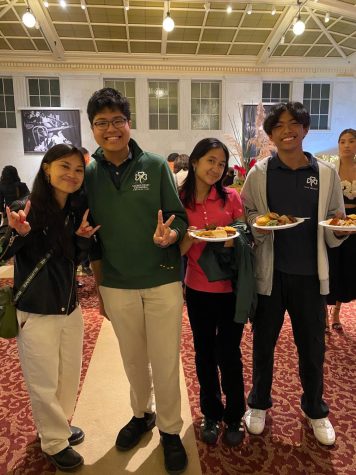 Her music was a stepping stone for many artists who want to share their culture creatively. Her music teaches me that one's history and culture cannot be taken away from them."
Along with speeches and singing, the Parangal Dance Company performed a series of traditional Filipino dances, authentically showcasing Filipino Folk dance. Parangal is based in the San Francisco Bay Area and aims to give tribute to Philippine heritage. Their goal is to connect Filipino Americans by encouraging them to be proud of their identity through workshops and performances. Ms. Medrano, Instructor of Science and Kapamilya ICCC Teacher Moderator, has been involved with the Parangal Dance Company since 2011.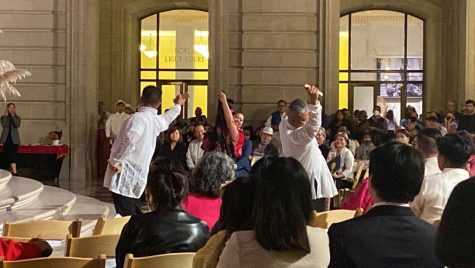 Regarding her experience performing with the Parangal Dance Company, she mentioned, "[My] dancing at SF City Hall for FAHM would mean nothing if there were no young people. I do this so that the next generation can have access to our people's history."
The celebration concluded with a flavorful dinner starring famous Filipino foods: the main course of pancit (noodles), lechon (roasted suckling pig), sisig (minced pork, chopped onion, and chicken liver), barbecue, and pan de sal, desserts of bibingka (baked rice cake) and ube ice cream from the popular brand Magnolia Ice Cream, and drinks from the brand Gina with mango and calamansi flavors. After attending the event, Gabriel Wico '23 exclaimed, "The celebration was awesome! Hearing the wisdom of the speakers and the beautiful voices of the singers, watching the dancers, and having an amazing time with Nicole and Justin made me remember what's truly special about our Filipino-American culture."
Throughout the night of the celebration, City Hall was lit with the national colors of the Philippines of red, white, and blue in solidarity with Filipino Americans residing in SF.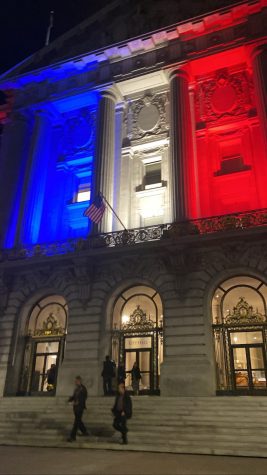 Kapamilya celebrates FAHM
In efforts to promote Filipino-American history at SHC, Kapamilya CCC held a club meeting on October 6, a day after the FAHM Celebration at SF City Hall. Student leaders Vince Sunga '23 and Justin Pacho '23 taught students important facts about FAHM, why it is celebrated, and expanded on aspects of Filipino-American culture. Today, there are Filipino after-school programs available for the youth, such as West Bay, a non-profit organization known for continuously serving the South of Market (SoMa) neighborhood since 1968. 
The meeting also covered some essential milestones in Filipino-American history: the Delano Grape Strike and I-Hotel. Led by Larry Itliong and Ben Gines in 1965, the Delano Grape Strike happened in response to the exploitation of Filipino farm workers, in which they endured poor working conditions and were underpaid. The National Farm Workers Association (NFWA), led by Cezar Chavez, worked in collaboration with the Agricultural Workers Organizing Committee (AWOC), who walked out of the grape vineyards two weeks before. At the end of their group meetings, farm workers did a unity clap and a chant of "Isang Bagsak," which symbolizes that "we are down with each other in solidarity."
Another event that unified Filipino Americans was the adversity within I-Hotel. Located in Manilatown, the Kearny/Jackson Street area of San Francisco, I-Hotel was a residential hotel for immigrant workers, most of whom were Filipino. A corporation wanted to build a parking garage at I-Hotel, which would have displaced the building's tenants. UC Berkeley students and activists joined with I-Hotel residents to protest against the violation of the living rights of Filipinos. This was a groundbreaking moment for Filipinos, representing civil rights and togetherness. 
After educating students on FAHM, the Kapamilya ICCC played a Kahoot recapping what they learned. Similar to what the NFWA and AWOC did at the end of their group meetings, at the end of every Kapamilya meeting, everyone huddles together in a circle and participates in "Isang Bagsak."
In Their Own Words: Students and SHC faculty on the importance of FAHM
Here's what Filipino-American SHC students and faculty have to say about the importance of celebrating FAHM:
"It is an opportunity to recognize our Filipino figures from the past that led us to where we are now. We can learn from the resilience used through hardships like the Delano Grape Strike and the Filipino-American nurses who died from COVID-19." – Donna Masangcay '26
"Since FAHM is about solidarity, not only does it teach me about my culture, but it also helps me learn about the importance of understanding other cultures. Solidarity will help us overcome division." – Kai Alvarez '25
"It allows us to be educated about the adversity Filipino Americans faced, while also celebrating the culture and heritage they brought to the United States." – Angeline De Castro '24
"We should recognize FAHM to honor the former and current accomplishments of Filipino Americans within the United States, especially in a diverse city like San Francisco, where many Filipino Americans live!" – Vince Sunga '23
"FAHM is an important month to recognize because it highlights the many amazing ways Filipinos have contributed to American history and culture. I myself am part of a unique part of FAHM in that my family belongs to a group of FILAM who worked in the Alaskan canneries, dubbed the 'Alaskeros.'" – Ms. Smith, Instructor of Music 
The acknowledgment of FAHM empowers the Filipino-American community, from the youth to the elderly, to maintain conversations about Filipino-American history, accomplishments, and legacies. The key to educating future generations about Filipino-American experiences and any cultural heritage is a matter of open-mindedness, inclusiveness, and respect. 
Leave a Comment
About the Contributors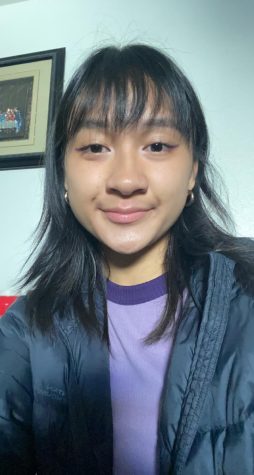 Nicole Mabborang '23, Managing Editor



Nicole Mabborang is excited to serve her final year at SHC as the Managing Editor for the Emerald, ensuring the quality of articles and coordinating...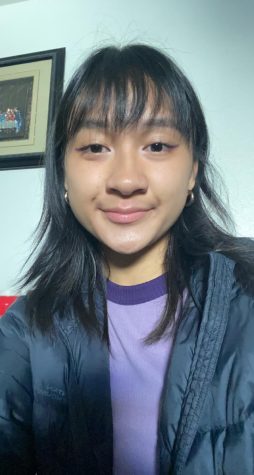 Nicole Mabborang '23, Managing Editor



Nicole Mabborang is excited to serve her final year at SHC as the Managing Editor for the Emerald, ensuring the quality of articles and coordinating...