Oscars 2021: Breakthroughs in Diversity and an All-Time Low Attendance
If you missed the 2021 Oscars ceremony this past Sunday, you're not alone. Marking a record low, Award ratings dropped by almost 60 percent as the performance's viewership decreased by nearly 10 million people. This dramatic plunge was characterized by abnormalities in the show due to the pandemic and the lessened audience of young people. According to the LA Times, Award shows such as the Grammys and Golden Globes have similarly struggled to maintain viewership throughout the pandemic. 
The annual Academy Awards are a time-honored tradition that honor the artistic and technical talent of films that year. While the ceremony has been held at Hollywood's Dolby Theater since 2002, the 2021 Academy Awards took place in the ticket hall of Union Station in Los Angeles. This change in venue introduced an Oscars ceremony different from any other. Attendees were limited to nominees and their guests, along with hosts presenting the awards. The nominees who could not attend in-person appeared on large screens displayed around the hall, calling in from locations across the world. Along with these changes in production, many typical features of the performance were not able to happen this year. Only a few movie clips were shown for certain categories and song performances were recorded in the pre-show. "There was no host so there was less humor, and it seemed like the speeches went on longer," recalls sophomore Natalie Macke. "Also, there were fewer popular movies […] so I feel like there was generally less interest in it this year."  
Despite negative reviews on the show's organization, the Oscars had several shining moments and breakthroughs. The speakers in this year's performance addressed important social issues, such as racial justice and police brutality, and shared their insights. Tyler Perry, who accepted the Jean Hersholt Humanitarian Award, delivered a powerful speech where he stated, "it's my hope that we teach our kids, refuse hate." In the show's opening speech, Regina King referenced the Derek Chauvin verdict. Travon Free also addressed police brutality in his acceptance speech for Best Live Action Short Film. Several other speeches about racial justice surfaced throughout the performance, acknowledging important social issues.       
The Oscars have historically lacked diversity in award winners and authentic representation of people of color. Social justice campaigns like #OscarsSoWhite, which was created by April Reign in 2015, have stood against this long-standing inequality. Over the past few decades, before the #OscarsSoWhite campaign caught on, 86 percent of top films had white actors and 92 percent of top directors were male. The hashtag grew a following online after only 2 people of color were nominated in the major categories in the 2015 Oscars. This lack of diversity continued in 2016 when, according to the Washington Post, "only one nominee in the major acting and directing categories was not white." In a New York Times interview about the #OscarSoWhite campaign last year, April Reign communicated how the hashtag "has never just been about race. It's about the underrepresentation of all marginalized groups." 
Although the Hollywood industry still lacks diversity and inclusion in many areas, the past few Oscars have made progress in achieving more equality, especially in 2021. This year, nine people of color received nominations and seventy women were nominated across 23 categories. Chloe Zhao, who was voted Best Director, became the second woman and first woman of color to ever win this category. As the producer and director of Nomadland, her movie also won Best Picture.
"
The Oscars are moving towards better inclusivity, most noticeably was their construction of a ramp for the red carpet for the disabled and crew of 'Crip Camp.'
— Natalie Pierotti
Another big breakthrough occurred when Yuh-Jung Youn was voted Best Supporting Actress for her role as a grandmother in the film, Minari. She was the first Korean actor to win an Oscar and delivered a humorous and graceful speech that many people enjoyed. This increased inclusion appeared not only in award winners but also in the very design of the show. "The Oscars are moving towards better inclusivity, most noticeably was their construction of a ramp for the red carpet for the disabled and crew of 'Crip Camp,''' describes senior Natalie Pierotti.
Mia Neal and Jamika Wilson were the first Black women to win Makeup and Hairstyling, for their work on Ma Rainey's Black Bottom. In her acceptance speech, Mia Neal shared, "I can picture Black trans women standing up here, and Asian sisters and our Latina sisters and Indigenous women, and I know that one day it won't be unusual or groundbreaking, it will just be normal." This powerful message expresses the hope for diverse representation to become normalized in the film industry. Many SHC students agree with this hopeful outlook. Emily Mirpiri '23 communicates, "I think that there is always room to improve and create a more diverse environment, especially in Hollywood, but I do think that the academy has made a conscious effort to choose movies that are more inclusive." Reflecting on the unprecedented year we've had, the 2021 Oscars showed breakthroughs in inclusion, despite the difficulties of hosting during a pandemic.   
Leave a Comment
About the Contributor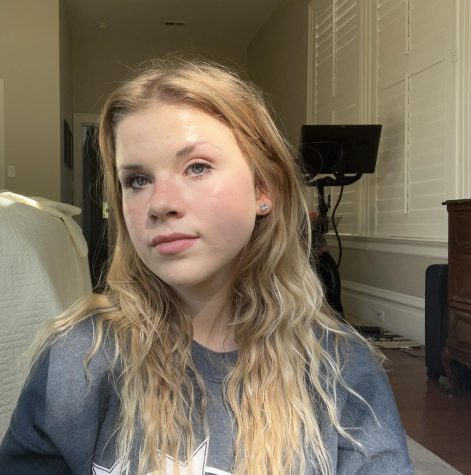 Katharine Biggar '23, Opinion Editor









Kat Biggar is one of the Opinion Editors and is excited to continue contributing to the Emerald. Apart from the newspaper, she is an...