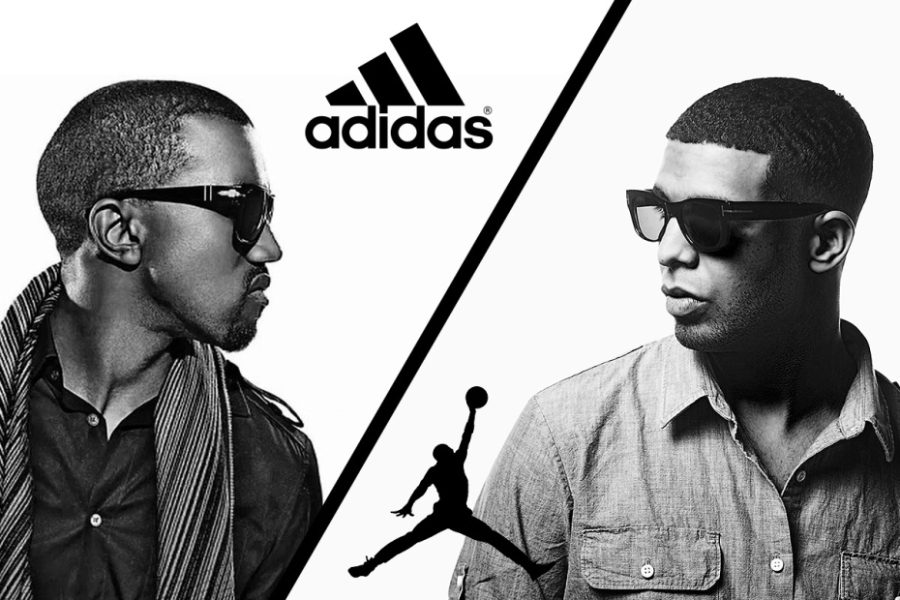 Shoes are different to everyone. For most people, shoes are just clothing. For others, they can be a lifestyle. Ever since Michael Jordan touched foot on the hardwood, the sneaker community changed. For years, Jordan Brand was the most popular shoe. Every saturday morning, a new pair of Jordans would come out and would fly off the shelfs. Now, the popularity of Kanye West and Adidas have arguably taken over. The rise of Adidas has made it hard for people in the sneaker community to pick sides.
Jordans were made to be basketball shoes, but many people today wear them as more of a luxurious shoe rather than a athletic shoe. Many can agree that most retro Jordans are not the best to play basketball in. As for the design of many Jordan shoes, they are bulky and can be heavy. Today, there are many Jordan models, but the most notorious are models 1-12. To make Jordans more desirable, there have been many collaborations with music artists, clothing brands, and other designers. A famous collaboration would be with music artist Drake, and his OVO brand. His shoe retailed for $220 but were very limited, making the demand for the shoe enormously high. However, as the Jordan brand rose in popularity, Adidas began to enter a different era. They teamed up with arguably one of the most popular music artists today, Kanye West.
On February 12, 2015, Kanye released his first Adidas shoe named the Yeezy 750's. The shoe retailed for $350 but amounts were very limited. They were sold out within minutes. Adidas later released the yeezy 350's which retailed for $200.  As Kanye West and Adidas continued to dominate the sneaker market with the Yeezy 750s and 350s, Adidas rose even more when the Adidas Ultra Boost become popular. A main feature of the ultra boost is the enhanced boost technology. With boost technology, people will be able to jump higher and be able to get maximum comfort while exercising. The enhanced boost technology made customers fly to stores to buy a pair. They began to dominate even further when the adidas nmd began to rise in popularity. With a slim and sleek design, the adidas nmd was another adidas sneaker that was a must have. Many people will agree that the ultra boosts and nmds are extremely stylish, but many will also say they are insanely comfortable. When asked to compare Jordan and Adidas sneakers, many would say Adidas is by far the more comfortable shoe. Although Jordan brand and the style of Jordans are still exceptionally popular today, it would seem as though customers in the sneaker community are shifting towards shoes that are more comfortable and more convenient to wear.
Comfort and convenience are two very important characteristics to consider when buying a shoe, but another main characteristic is the value of the shoe. Many people in the sneaker community today try to resell their shoes to make more profit. With adidas limiting their supply, the resell value of adidas shoes, especially the yeezys, are very high up. Since the value of Yeezy's and Ultra Boosts are high, more and more people will try to buy them for the retail price or a reasonable price. Also, with so many people trying to buy the shoes for cheaper, it makes the value of the shoe shoot up once the shoes sell out. This makes it even more hectic when Adidas releases Yeezys or Ultra boosts because more people want to buy the shoe for retail and resell for more. For example, most yeezys which retailed for $200 and $350 now resell from $800-$1500 depending on the condition.
Although this article praises adidas and how they are taking strides to change the sneaker game, Jordan brand is still an extremely exceptional brand and is still ahead of Adidas in terms of popularity. However, most people cannot argue against the fact that Adidas is making great progress and is changing the sneaker game this instance.