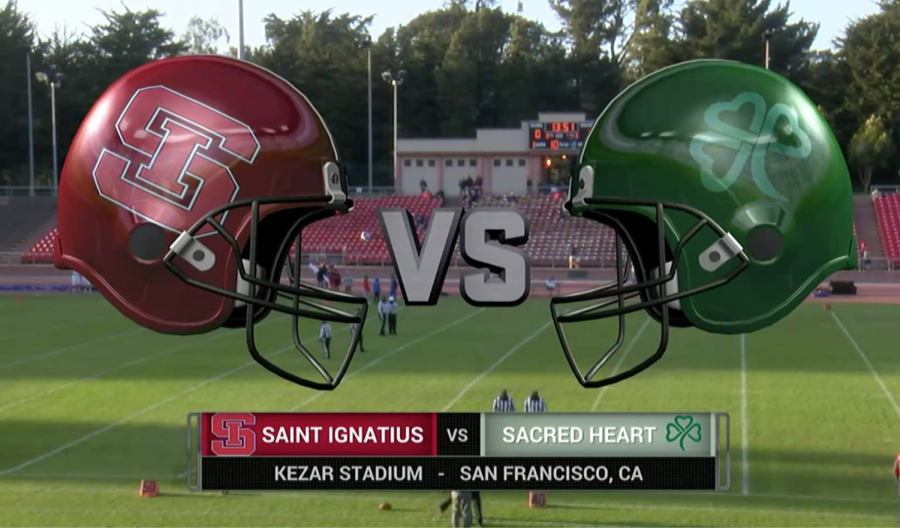 BAOSN
Earlier this year, we published an article proclaiming that there was the "slightest chance" of the Bruce-Mahoney series occurring this year given the ongoing COVID-19 pandemic. With SHC students finally returning to school in January, a sense of optimism regarding the possibility of the games being played began to arise among the SHC community. Sure enough, SHC's football teams resumed practicing in February, and the season was deemed a go. The Bruce-Mahoney football game was scheduled for Friday, April 9th. Of course, this season would be completely unusual. Athletes must be tested before every game, wear a mask when not actively participating, and — most importantly — no spectators are allowed at competitions (besides parents and guardians). For this reason, the game would seem all but normal: the boisterous cheering that is normally present on the SHC sideline was nowhere to be found. Students watched from across the country (given that the game occurred during Easter Break) through a live stream, cheering their classmates on through a nail-biting finish. Quarterback Cian Dowling '21 wished that his "friends could've been there for [his] final Bruce Mahoney — not seeing them in the crowd was really disappointing." Nevertheless, the opportunity to even play was unexpected and well-received by all members of the SHC community.
With each team coming in having played two games so far, Sacred Heart Cathedral and Saint Ignatius looked like polar opposites. Before this game, SHC had played Junipero Serra and Archbishop Riordan. Both games resulted in resounding losses, likely affecting the spirit of the team. To add insult to injury, SHC had not won a game in over two years. Coming off all this adversity, SHC was looking forward to redeeming themselves in the most fashionable way, the Bruce Mahoney. The intensity was rising, but it wasn't just rising for Sacred Heart Cathedral. Saint Ignatius was coming into the game itching for war. Coming off a two-game winning streak against Serra and Riordan, Saint Ignatius felt good about walking onto the field with opponents who lost to the teams they previously beat. Both teams were ambitious and ready to give it their all. Students from both schools were excited, posting the link to the live stream on social media before the game.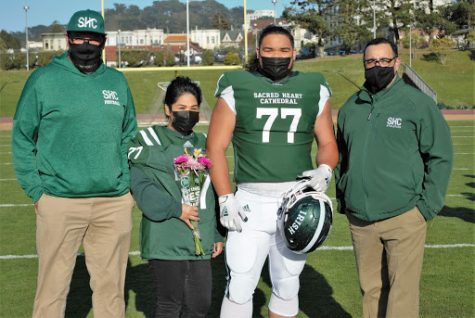 Before the game, SHC's senior players were honored with a celebratory "Senior Night." Students walked hand in hand with their parents, receiving a certificate from Head Coach Barry McLaughlin and Dean of Students Mario Sazo honoring their service to the SHC football program.
At 7 P.M., it was finally time for the game (view the game in full here) to get underway at historic Kezar Stadium. The game started with a field goal by Cooper Lucy for Saint Ignatius. Sacred Heart was quick to strike back in the second quarter with a field goal by Quarterback and Kicker Cian Dowling '21 and a 33-yard pass from Dowling to Bruce Uperesa '22 for a touchdown Leading by seven at halftime, SHC was in a good position heading into the third quarter. Collectively gaining yardage, making tackles, and helping each other on every play, the team was firing on all cylinders. Saint Ignatius made a Quarterback switch at halftime, removing Cheddar Tunney '21 in favor of Aidan Smith '22. Smith came in hot, delivering an impressive touchdown pass on his first drive. Saint Ignatius led 13-10 heading into the fourth quarter. However, SHC was ready to come on the attack. With 8 minutes left in the game, Tyrice Ivy '21 aggressively stripped the ball from his opponent and Jerry Mixon '23 recovered the fumble for a touchdown. With SHC leading by four with just five minutes to go, Saint Ignatius locked in and scored a 35-yard touchdown. They made the PAT and took the lead by 3. While SHC fought hard, they were unable to mount a comeback at the end of the game and Saint Ignatius won a hard-fought 20-17 victory.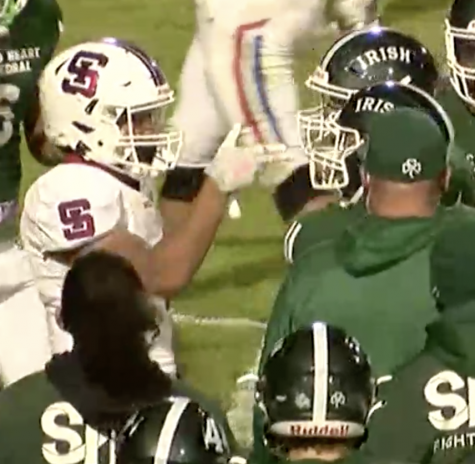 The game was nail-biting to watch. As Levi Cervantez '23 put it, "the game felt unusual not being able to watch it in person but it was still a stellar match that should've ended in a win for Sacred Heart." Not being able to attend the game left the large stadium empty and quiet. When tensions flared between SHC's Aidan Shea '22 and SI's Jahsai "Scoop" Shannon '21, those watching the livestream expected to hear anger emanate from both sidelines. However, players and parents were the only ones hollering, in a truly remarkable scene. Freshman Jack Kennedy "chose to attend SHC because of its impressive school spirit" and was "disheartened to not be able to support [his] peers at their big game." Although thankful to even be able to watch the game from home, students are hopeful that the game will feel "normal" next year, complete with a packed crowd at Kezar Stadium. For now, it's on SHC's basketball and baseball teams to win the next legs of the series in order to bring the Bruce-Mahoney trophy back to SHC.