How COVID-19 is Affecting SHC Girls Golf
The COVID-19 pandemic has been an unprecedented time in modern history. Never has the world been forced to pause for such a long duration. Especially affected are events that require the congregation of many people, such as sports. The pandemic has forced the cancellation of many sports, and SHC sports teams are no exception. As a member of the SHC's Varsity golf team and avid golf player, the shifts due to COVID-19 have been quite noticeable to me.
The golf season, which occurs in the fall, was canceled this year. Normally, players meet every day after school and travel to the Presidio golf course, where they practice skills such as putting, driving, and chipping, for multiple hours a day. Players receive in-person feedback and advice from coaches on how to improve their swing, aim, and posture; then these skills are finessed through golf tournaments with other schools around the Bay. 
The cancellation of the golf season has been disappointing for many players. Practices and long tournaments were instrumental for the development of friendships and team-bonding, especially because the players range across all grades. Therefore, the pandemic has damaged the close-knit unity of the team. Marika Rosenfield '22 remarked, "It's kind of disappointing because it was really fun last year. We had a small team which made it better because we were all so close." Macie Andruha '23 added, "I miss all my friends." Personally, I have also missed interacting with my fellow players, as their palpable energy always boosted my spirits. From Chick-Fil-A runs after tournaments to inside jokes during practice, the absence of their fun presence in my life has been significant, especially during fall. 
However, many golf courses slowly started reopening last May with stricter regulations, so despite the cancellation of SHC's golf season, some golf players have continued to hone their own skills. Without proper guidance, though, individual practice sessions have been less effective. Macie states, "After the golf courses closed, I didn't get as much practice. Even after they reopened, with all the restrictions I didn't practice as much as before. I miss playing with my friends and the advice from my coaches. My skills haven't improved and with the less practice, they've actually gotten worse." For me, I have experienced a similar decline in my skills. Although I practice twice a week, my own skills have deteriorated, due to the absence of guidance from our amazing coaches.
"
My game hasn't changed, but the mask is still really distracting and annoying.
— Marika Rosenfield '22
Of course, the reopening of golf courses have resulted in many changes to decrease the health risks that players may face when interacting with others. The most noticeable difference is the mandatory face-masks required by all golf courses. I find that face-masks have not only made the ordinary task of breathing more difficult, but also makes me claustrophobic, affecting my accuracy. For other players, the mask does not hinder their performance, but still proves an uncomfortable accessory. In Macie's experience, "My game hasn't really changed, but the mask is really distracting and annoying. I miss the scent of grass and fresh air." More procedural changes have also aimed to minimize potential human interaction. The amount of golfers allowed to play in a group has been reduced from foursomes to twosomes. Marika notes, "The tee times are more spaced out and I see less people now. There used to be carts driving around and selling snacks, but obviously now they're all gone. In some places, carts are allowed but in most places, you have to walk. In most golf courses, you no longer have to reach in and grab your ball after you putt it in. They have a black pool noodle so the balls just bounce off and no one needs to touch the flag. Some golf courses no longer allow non-relatives as part of your group. The staff also walks around to make sure everyone follows the Covid-19 guidelines."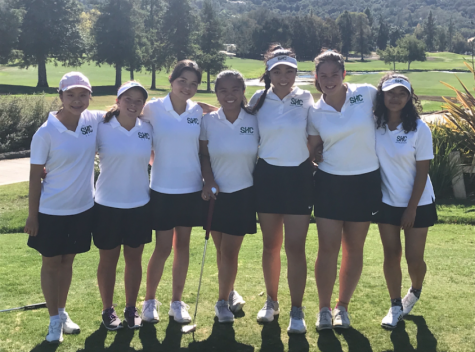 Some players grapple with understanding why the golf season has been canceled. Marika points out, "We have our own equipment, unlike basketball, volleyball, and some other sports. Golf is also an outdoor sport that takes place over a long golf range, so there aren't really any large gatherings of people. It's definitely possible for students and coaches to remain 6 feet apart from each other." Despite these thoughts, Marika followed up by indicating the prioritization of health and safety over sports. 
As the second semester begins, news of the future of SHC girls' varsity golf has been inconsistent. Although coaches have briefly floated the idea of a spring season, it seems highly unlikely. Not only would the girls practice with the boys, resulting in less personal guidance to the teams, having both girls and boys practice simultaneously would mean more personal interaction, increasing health risks. Furthermore, although two COVID-19 vaccines are available, issues with the rollout have made whether or not spring golf will take place uncertain. 
Players express cautious optimism about the future of 2021's spring season. Personally, I am hopeful that it will not only be safe for us to gather and play together, but we will also continue to hone our golf skills and show the Bay the prowess of the SHC's girl Varsity golf team!
Leave a Comment