Met Gala 2021 Most Memorable Looks
The above picture was taken by me this past summer, on a day spent avoiding the oppressive humidity outside. I sought out air conditioning refuge and art at the Met. Unfortunately, the costume institute was not displaying anything when I was in town, but only three short months later, the In America: A Lexicon of Fashion exhibit was showcased at the Met Gala.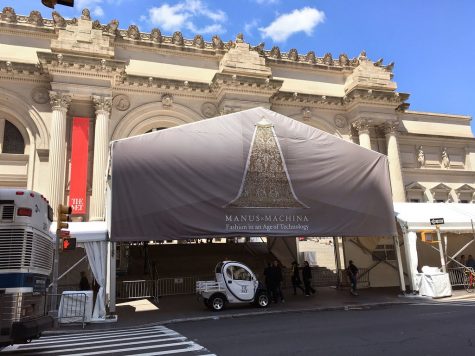 This year's Met Ball was definitely one to remember. Over $16 million was raised 0n Monday night to benefit the museum's Costume Institute. To compare, this sum is larger than the record-breaking $13 million that was donated in 2019. Being the only department in the entire Metropolitan Museum of Art that is forced to self-fund, the money raised from the Met Gala is crucial in keeping this fashion institute alive.
The Met Gala's 2021 theme, American Independence, featured a variety of looks. These fashion pieces ranged from iconic Hollywood styles to the popular American fashion trends of different eras, and bold statements that represent American culture.
Aoife and Jasmine commented on their favorite looks of the night, and the author of each review is indicated at the end of their section. The first section is written by Aoife, and the second by Jasmine. 
For images of the looks mentioned below and more, browse this Women's Wear Daily photo gallery.
__________________________
Aoife:
There were numerous show-stopping looks that walked up those steps, but the following stood apart from the rest. Simone Biles, a seven-time Olympic medalist for gymnastics, wore an 88 pound Swarovski crystal-coated gown by Area. No other attendee better represents America than Simone, and her glittery star-covered look perfectly encapsulated the theme of American fashion.
Another look that similarly applied the theme of a twinkling night sky was the outfit worn by model Anok Yai. The  heavenly Oscar de la Renta dress and boa-like shawl, paired with opera gloves and a cropped hairstyle, created an old Hollywood effect and gave her the air of a celestial goddess.
Yara Shahidi's look is my personal favorite, not only because it is fabulous, but also because of the inspiration behind it. Yara, a well-known actress and model, explained that her look was inspired by none other than Josephine Baker, who was the first black woman to star in a major movie. Although Baker was mostly a French entertainer, this look was still on-theme because it is a nod to not just Josephine Baker, but also to Yara's personal experience with being a black actress in America. The gown is Christian Dior, and the jewelry is Cartier.
Amanda Gorman's look was flawlessly on-theme. Her Statue of Liberty-themed gown was gorgeous, with an attention to detail noticeable from the laurels in her hair and the "give me your tired" inspired clutch, modeled after the book held under the arm of Lady Liberty herself. Amanda Gorman, a poet and activist who spoke at President Biden's inauguration, embodies the American dream and really brought it to life with her Vera Wang gown. Additionally, Gorman was  a co-chair of the Gala, along with Billie Eilish, Timothée Chalamet, and Naomi Osaka. 
The old Hollywood/American glamor theme was incorporated into many looks on the carpet, but none was like that of Barbie Ferreira. Every inch of her one-of-a-kind, burlesque-inspired look was covered in pearls. Barbie's dress was impeccably detailed and stunning from every angle. It was glitzy, but managed to stay tasteful and elegant. 
ASAP Rocky's look was very traditional American fashion. His custom quilt made by designer Eli Russel Linnetz was similar to a few other looks displayed in the Met exhibition. These looks were displayed in the costume institute because they focus on the timelessness of American handwork—Specifically, quilted, knit, and embroidered fashion. 
Pete Davidson's ensemble was not very striking at first glance, but I've grown to appreciate the simplicity of it. His chic black dress along with a white-collar slightly resembles a clerical robe, while the white blazer and hair paired with his dark sunglasses made him look like one of the three blind mice, in the best way possible. Pete was one of the few celebrities at the Met Gala who gave an honest and humorous description of his outfit. According to Pete, his inspiration to wear sunglasses was solely so that he could stare at people without them knowing.
__________________________
Jasmine:
Nikki de Jager's gorgeous gown is a tribute to the trans-rights activist, Marsha P. Johnson. Outshoorn's work features the embroidered words of the Stonewall Riots activist's famous phrase, "Pay it no mind." As a member of the trans community, Jager previously visited the memorial for Marsha P. Johnson and honors her legacy through this beautiful flower-embellished Met Gala look.
US Congresswoman Alexandria Ocasio-Cortez made a grand debut at the Ball with a bold off-the-shoulder white gown that had the phrase, "Tax the Rich" inscribed on it. This one fashion look sparked a lot of attention, especially since the majority of the event's guests are a part of the wealthy 1%. In response, AOC stated that she was given an invitation as an elected NYC politician to show her support and appreciation for the arts. AOC is pleased with this look's attention because she believes that taxing the elite is an issue that demands necessary action. Appealing to a country that values freedom, Congresswoman Alexandria Ocasio-Cortez employed fashion's essence of self-expression to play on theme with these American ideals.
Lil Nas X entered the red carpet in a gold, glorious Versace gown that exhibited a royal flair. Then, he revealed a gold suit of armor underneath the robe. Lil Nas X explained that these first two looks represented how he felt the desire to guard and prove himself during the first years of him entering the music industry. Finally, he went through another costume change and wore a sleek bodysuit. The music artist exclaimed that this fashion look symbolized how he now feels that he can be his authentic self in the spotlight.
Leave a Comment
About the Contributor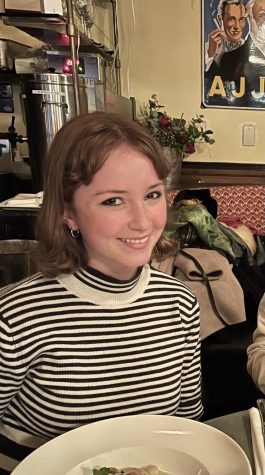 Aoife Keenan '23, Current Events Editor




Aoife is a senior and the Current Events Editor; she likes reading, painting, and the outdoors.